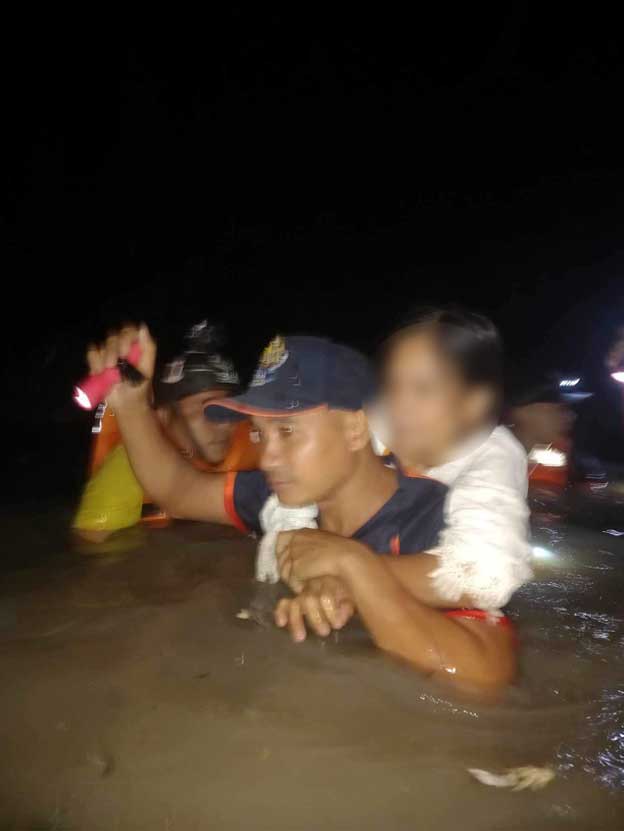 By Glazyl Y. Masculino and Rjay Z. Castor
A total of 1,772 families or 6,178 residents in Bacolod City were evacuated since Sunday night, August 27, due to flooding brought about by Typhoon Goring and southwest monsoon.
Based on the data from the City Disaster Risk Reduction and Management Office (CDRRMO), as of 5 p.m. yesterday, the evacuees included 12 families or 43 individuals in Barangay 36; 25 families or 85 individuals in Barangay 40; 324 families or 829 individuals in Barangay 39; 38 families or 120 individuals in Barangay Alijis; eight families or 33 individuals in Barangay Felisa; and 25 families or 97 individuals in Barangay Handumanan.
A total of 21 families or 92 individuals in Barangay Mansilingan were also evacuated, 215 families or 724 individuals in Barangay Pahanocoy, 114 families or 402 individuals in Barangay Punta Taytay,
464 families or 1,848 individuals in Barangay Sum-ag, 485 families or 1,765 persons in Barangay Singcang-Airport, 20 families or 76 persons in Barangay Taculing, 18 families or 55 individuals in Barangay Tangub, and three families or nine individuals in Barangay Vista Alegre.
The evacuees were temporarily sheltered in various school evacuation centers and barangay halls.
The Bacolod City Police Office (BCPO) activated its search and rescue operations to render assistance to Bacolodnons affected by heavy rains.
A pick-up truck that avoided flood water turned turtle when it hit a gutter along the new economic road, Fatima 2, Barangay Sum-ag here early Monday, according to a report from the Bureau of Fire Protection (BFP)-Bacolod.
The pick-up truck driver and his passenger suffered minor injuries, the BFP reported.
The BFP also responded to a fire incident in Barangay Alijis here at around 5:30 a.m. yesterday, leaving an estimated P8,100 worth of damage.
Meanwhile, Mayor Alfredo "Albee" Benitez issued an executive order yesterday, for the cancellation of classes in all levels and suspension of work in all government offices here today, August 29 due to inclement weather brought on by the typhoon.
Other local government units in Negros Occidental that also suspended classes in all levels today included the towns of E.B. Magalona town, Isabela, La Castellana, Pulupandan, Pontevedra, and Murcia, and the cities of La Carlota, Bago, Talisay, Kabankalan, and Himamaylan.
CLASS SUSPENSIONS
Classes from pre-school to senior high school levels today, August 29, have been suspended in Iloilo City and several towns in the province as the area is battered by heavy rains and flooding caused by the southwest monsoon (Habagat) and enhanced by Super Typhoon Goring.
On Monday evening, Iloilo City Mayor Jerry Treñas announced the suspension of classes in the city from pre-school to senior high school levels as recommended by the City Disaster Risk Reduction and Management Office (CDRRMO).
The decision regarding class suspension at the college level remains at the discretion of the respective administrators.
Flag-raising ceremony for City Hall employees is also canceled as per Treñas' announcement.
Iloilo City is currently on a red rainfall alert, which means torrential rain or at least 30 millimeters of rainfall per hour may be experienced and serious flooding is seen and residents should be ready to evacuate to safety.
"Given the forecast, it is expected that flooding will persist in high-risk areas," the city mayor added.
According to the CDRRMO, around 10 barangays in Iloilo City are affected by flooding as of Monday afternoon. Floodwaters in the affected areas reached up to 3 to 10 inches.
Among the affected areas are the five barangays within the City Proper (Tanza Timawa II, Malipayon, Veterans Village, Magsaysay, and Kahirupan); three barangays in the Molo district (Poblacion, Kasing Kasing, and East Timawa); Calubihan-Zone 2 in Jaro; and Taft North-Zone 1 in the Mandurriao district.
As of writing, classes at all levels are suspended in Zarraga and Sara. The suspension of classes is only from pre-school to senior high school in Pavia.
In Antique, the Paliwan Bridge which links the towns of Bugasong and Laua-an, has been rendered impassable to all types of vehicles due to river flooding.
Commuters bound for Aklan or northern Antique are advised to take the alternate route via the Antique-Iloilo-Aklan Road.
The Department of Public Works and Highways (DPWH) Antique District Engineering Office is closely monitoring the flood levels and is on standby to provide assistance to pedestrians who need to cross the detour road on foot.
Once the floodwaters recede, the DPWH crew stationed on-site, equipped with pre-positioned machinery, will initiate the necessary repair work on the detour road.
Around 30 students en route to Sibalom and San Jose de Buenavista were stranded and are currently seeking refuge at Brgy. Cubay's North's Covered Court in Bugasong town.
Classes at all levels both in private and public schools are suspended in the towns of Tobias Fornier, Hamtic, and Patnongon.
All motorboat trips from Caticlan Jetty Port bound for Romblon are also canceled on Monday according to an advisory from the Philippine Coast Guard.
Similarly, the Antique Coast Guard has announced the suspension of small seacraft trips from Antique to Mindoro or Palawan. (With a report from Joseph Bernard A. Marzan)