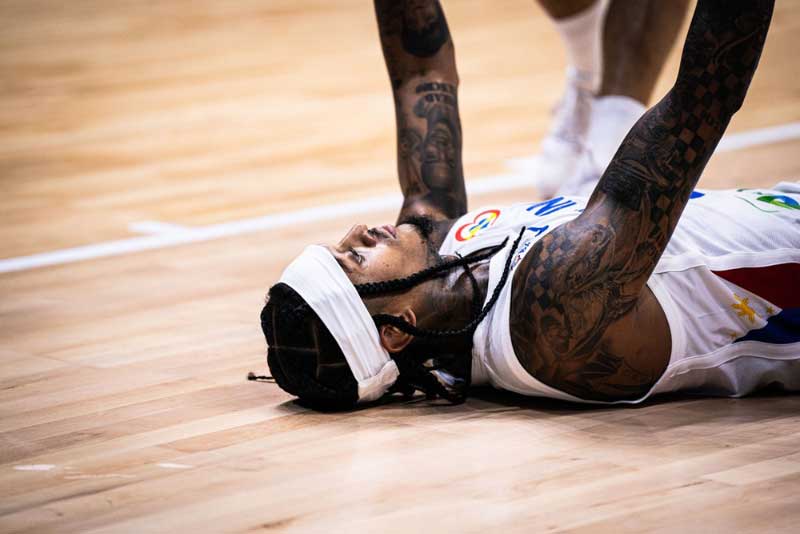 By Leobert Julian A. de la Peña
The Gilas Pilipinas men's national basketball team probably just missed its best chance to grab a much-needed FIBA World Cup win.
After a nip-and-tuck affair against Karl Anthony-Towns and the Dominican Republic, Gilas once again found itself in a "what if" situation after failing to hold on to their 11-point lead, losing against Angola in their second FIBA World Cup match, 80-70, last August 27, 2023, held at the Araneta Coliseum.
It was an electric start for the Filipino hoopers after gaining control of the tempo of the game in the first half led by RR Pogoy who capitalized on the mismatches at the post going up against the smaller guards of Angola.
Every time Pogoy held the ball down the block, head coach Chot Reyes and the staff put their whole trust in the Cebuano sniper, backing down the smaller ball handlers of Angola which resulted in six quick points.
Pogoy's offensive efficiency helped Gilas close the first frame with a seven-point lead, 19-12, but Angola provided an immediate answer in the following quarter after only holding Gilas to their lowest-scoring period of the game with 14 points.
It was Angola's efforts on the boards that helped erase Gilas' 11-point lead in a jiffy and used a momentum-shifting 19-5 run to close the second period in their favor while also retaking the lead, 36-33.
Gilas made a minor lineup tweak at the start of the third quarter, inserting Kiefer Ravena to replace their starting point guard Scottie Thompson.
Ravena made an impact once again after a sweet dime underneath and a step-through jumper but his efforts weren't enough as Angola countered back with a barrage of open three-pointers.
Just when Gilas needed someone to step up, Jordan Clarkson answered the call after scoring six-straight points to help PHL snatch the lead, 45-43, with 4:35 remaining in the third.
However, for the second straight time, Gilas opened their final frame with a scoring drought and allowed Angola to produce points off open three-point shots.
The sold-out Araneta Coliseum then went silent after Angola ballooned its lead to double digits which led to a coach Reyes timeout.
Running out of options and hoping someone could spark the team off the bench, Reyes deployed Rhenz Abando late in the game and sparked his team's chances alive after scoring a deuce on the fast break while also deflecting a ball for a steal.
AJ Edu then scored a reverse layup and cashed in his free throw to trim Angola's lead to just seven points, 73-66.
After another Gilas defensive stop, the whole Araneta Coliseum then exploded as Kai Sotto converted a tough shot inside the paint to keep PHL closer, 73-68.
When all was well for Gilas during that fiery stretch, Angola suddenly put the nail in the coffin after burying a three-pointer from the right corner that extended their lead to eight points, 76-68.
Clarkson led Gilas in scoring again after dropping 21 points but shot the leather poorly after only making seven of his 22 total attempts.
Just like their game against the Dominican Republic, Gilas had the same issues in the rebounding department after giving up 20 offensive boards to Angola while also committing 15 crucial turnovers.
Gilas will aim to put on a statement win against Italy today, August 29, still to be held at the Araneta Coliseum at 8 PM.