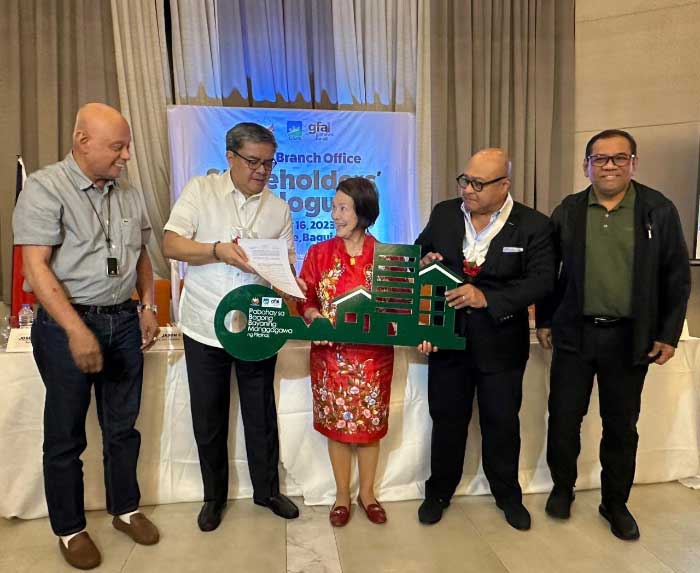 State pension fund Government Service Insurance System (GSIS) is pushing a three-pronged approach to support the Pambansang Pabahay Para sa Pilipino Program (4Ps), the flagship program of the affordable housing initiative of President Ferdinand R. Marcos Jr. which aims to construct 6 million houses to benefit 30 million Filipinos.
"As this administration has intensified its efforts to address the country's housing needs, GSIS has aligned its efforts to the president's pabahay program," GSIS President and General Manager Wick Veloso said.
"We are championing the right of every government employee to own a home. Our commitment is to create a significant impact and positive difference as we support the housing program and, at the same time, help the overall economy as construction of homes has a big multiplier effect. GSIS will do its part to support this program," Veloso added.
These three initiatives launched by the GSIS are aimed at helping more Filipinos secure their homes. The first initiative is the Lease with Option to Buy (LWOB), which can be used for the estimated 15,000 residential properties owned by the GSIS nationwide. The LWOB is an alternative way to buy a home or property from the GSIS without having to pay a down payment.
The second initiative launched by the GSIS is the Housing Accounts Restructuring and Condonation Program (HARCP) which has been extended until 2025. This initiative provides GSIS housing loan borrowers an opportunity to bring their accounts back to current status. It encourages full payment due to waiver of penalties and partial discount on interests effectively reducing the balance on housing accounts.
And the third initiative of the GSIS, which is targeted to be completed over the medium term, involves the construction of new decent low-cost housing units for government workers. The initial projects underway are the high-rise housing complexes to be constructed in Fairview, Quezon City and in Cogeo, Antipolo. These are targeted to be completed by 2025. Other projects under this initiative are in collaboration with the Department of Human Settlements and Urban Development (DHSUD).
Details about GSIS properties for sale and lease, along with general guidelines, application forms, checklists of requirements, and FAQs under LWOB, are published in the GSIS website (www.gsis.gov.ph).
GSIS members who are interested in availing of housing programs under the PBBM may also visit the GSIS Facebook page (@gsis.ph), email gsiscares@gsis.gov.ph, or call the GSIS Contact Center at 8847-4747 (if in Metro Manila) or 1-800-8-847-4747 (for Globe and TM subscribers) or 1-800-10-847-4747 (for Smart, Sun, and Talk 'N Text subscribers).