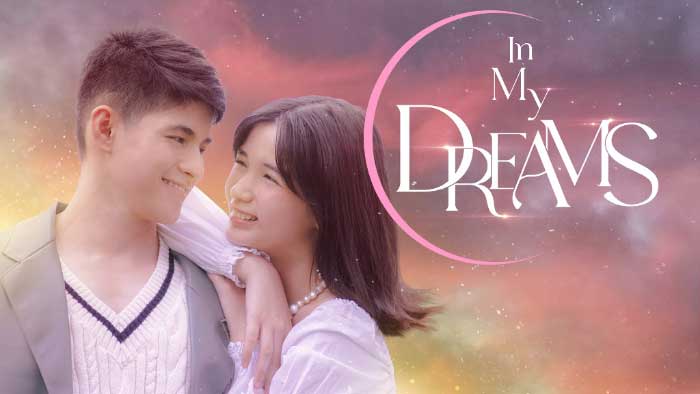 GMA Public Affairs' digital drama series 'In My Dreams,' headlined by Sparkle sweethearts Sofia Pablo and Allen Ansay, debuts on Philippine free TV this Sunday (August 27), 2 PM, on GMA Blockbusters.
First aired via GMA Public Affairs' Facebook page and YouTube channel, the six-part narrative digital series has been edited into a tighter film version for the TV premiere.
Sofia is Sari, a certified NBSB who feels she has no control over anything in her life. She maybe an outcast, but Sari is able to escape the real world and be free in her dreams. Here she meets a charming young man named Jecoy (Allen).
As Sari regularly has lucid dreams, she and Jecoy reunite each night. Soon they eventually fall in love. But can a romance found in one's dream translate into reality?
With its unique storyline that intertwines reality and fantasy, 'In My Dreams' caught the netizens' attention when the six-part digital series was launched earlier this year.
The story, which was well-received by netizens, also touched on the subject of mental health and bullying. Team Jolly fans were treated to different acting skills of Sofia and Allen as they portrayed their characters Sari and Jecoy.
'In My Dreams' also features Sparkle artists Elijah Alejo, Cheska Fausto, Tanya Ramos, Juancho Triviño, and Sanya Lopez. Adding excitement to the romance-magic realism series are content creators Ashley Rivera, Christian Antolin, Berniecular, Alexis Vines, and Prince Adrian Dagdag.
It is proudly produced by the team behind the hit series, 'The Lost Recipe.'
Don't miss the Philippine free TV premiere of 'In My Dreams' this Sunday (August 27), 2 PM on GMA Blockbusters with a simulcast on GTV.
For more stories about the Kapuso Network, visit www.GMANetwork.com.