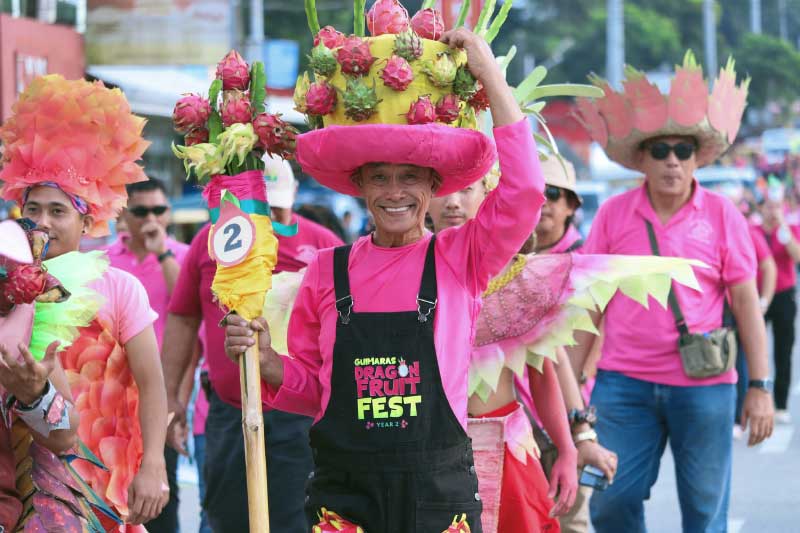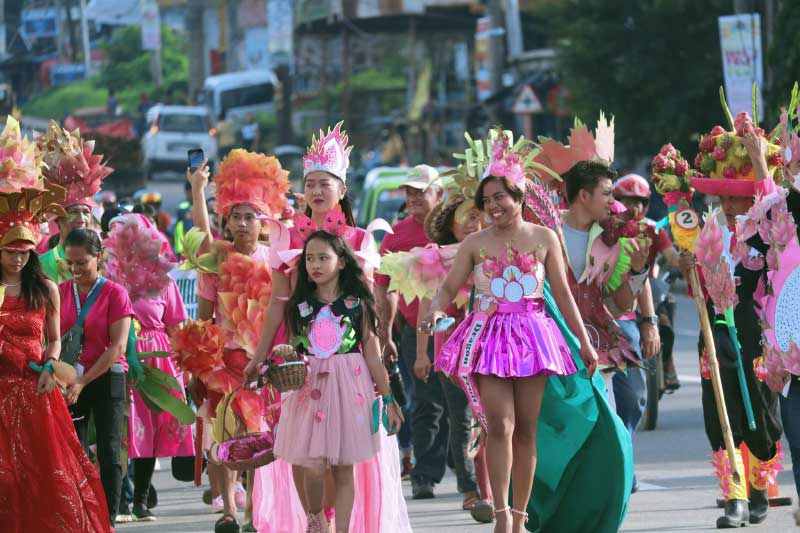 By Joseph Bernard A. Marzan
The island province of Guimaras, known for its mangoes, also wants to be recognized for another commodity, the dragon fruit, as it kicked off the second year of the Dragon Fruit Festival.
The 10-day celebration kicked off with a Costume Fun Parade where Guimarasnons flaunted their best dragon fruit-inspired attire on the streets of Jordan town.
During the opening program at the provincial capitol grounds, provincial Board Member Felipe Nava, representing his brother Governor Joaquin Carlos Rahman Nava, said the festival recognizes the additional economic potential of the dragon fruit.
Nava said dragon fruit farming in the province started with 6 hectares and has grown to 28 hectares.
He added that the governor is aiming to maximize land use not only for dragon fruit, but for other agricultural food commodities.
"The aim today is to continue to increase the production of dragon fruit, not only the production but the quality. So, it is more of technology transfer, improvement production, and additional knowledge for our farmers," Board Member Nava said in his opening message.
"The governor said that there is a possibility for us to export if we could reach the volume. One of the major programs is to identify properties that are not being maximized or utilized properly. Our plan in the province of Guimaras includes the maximum utilization of lands for productivity purposes," he added.
In a press conference, Provincial Agriculturist Alvin Nava said that dragon fruit production in the province has been steadily increasing since 2019.
He noted that they produced 8 tonnes dragon fruit in 2019 and increased to around 12 tonnes in 2020. They expect the yield to grow to 15 tonnes this year.
Provincial Economic Development Officer Francisco Gentoral said that the province wants to produce dragon fruit of "world-class" quality.
Gentoral said many in the island have expressed interest in dragon fruit farming but he was unable to cite exact figures.
"You may have heard that [Guimaras] mangoes now have a [geographic indicator], so we wanted to make sure that even with smaller coverage, the quality of our [dragon fruit] products are actually world-class. Through the festival, we have a way to contribute to the awareness of the product," Gentoral said.
"Here in Guimaras, the [Dragon Fruit] Festival is not only to attract tourists but also to ensure that investors would be attracted to put in their investments," he added.
Guimaras Dragon Fruit Farmers Association president Bonifacio Tespoer said they expect the arrival of experts and scientists who specialize in dragon fruits from South Africa, where it was first highly propagated.
Tespoer said they will tackle relevant issues in dragon fruit farming, including diseases, general plant management, and proper selection of planting materials.
Other related activities of the Dragon Fruit Festival, which will run until August 13, include 'Taste the Dragon' fruit-tasting, Bangus and seafoods market, busking and live bands, and a 'Dragon Fruit Classroom' with farming and food processing lectures, among others.