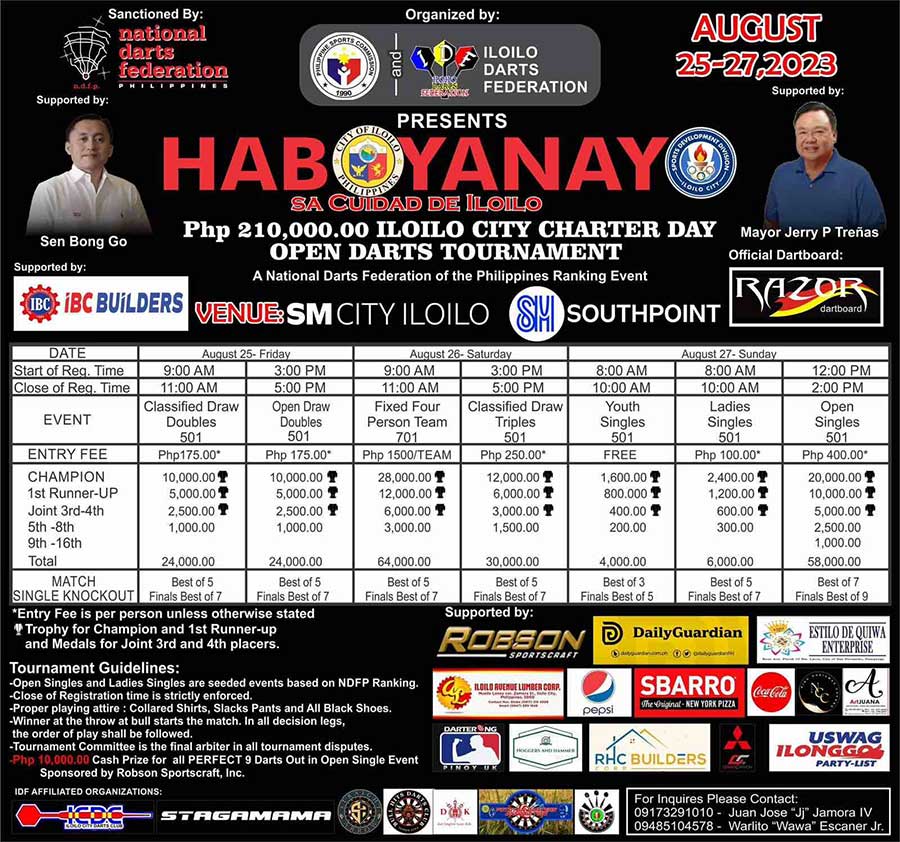 By Aira Jamoles
The Iloilo Darts Federation, formerly known as Iloilo City Dart Club (ICDC), and Philippine Sports Commission (PSC) partnered to organize the first "Haboyanay sa Ciudad de Iloilo" Iloilo City Charter Day and Open Darts Tournament on August 25-27 at SM City Iloilo Southpoint.
The tournament, which is sanctioned by National Darts Federation of the Philippines (NDFP), will be played head-to-head featuring singles games (open, youth, ladies), doubles, 3-person team, and fixed team.
Apart from the cash prizes, the winners will earn national points under the NDFP.
The event is supported by Senator Bong Go, Iloilo City Mayor Jerry Treñas, and other IDF-affiliated organizations.
According to event organizer Juan Jose "JJ" Jamora IV, the reason why they organized ''Haboyanay'' is to elevate Iloilo in the national rankings and to give Ilonggo darters opportunities to join local events.
It will also enhance their ability to compete in Manila and activate the local darts scene.
"Well, number one is para madala balik sa ranking ang Iloilo because last ko naka-[pa] national was last 2018," Jamora told Daily Guardian.
"So, gusto namon actually, nga diri mag-ranking event [for the local] sa Western Visayas nga mas hapos sa ila nga mag-hampang sa Manila. Ini, is maka-hatag ka sang opportunity sa mga players [diri] sa Iloilo kag magasaka man ang ila nga hampang," he added.
Jamora also said that around 200 participants are expected, since the event is open to the public. They also want to attract more Ilonggo darters as well as improving tournaments in Iloilo with better venues and increased competitiveness.
"It is open to the public kag makit-an nila. Pero ang isa namon nga gina-expect is because ang ini nga mga hampang nga ginhimo, mas madamo na ang ma-hampang sa Iloilo kay bisan ang local lang, gusto namon ma-push," said Jamora.
The origin of the darts scene in Iloilo was way back in the 1980s which is the Dinagyang tournaments handled by the first ICDC president, William 'Billy' Dellota.
Darts is also labeled as only seen in bar games or sports bars, but this sport has evolved into a high level of competition and numerous high-stakes tournaments not only in the borders of Iloilo but also in national and international stage.
The "Haboyanay sa Ciudad de Iloilo" Darts Tournament serves as the beginning for Ilonggos in igniting their interest in the game of darts.