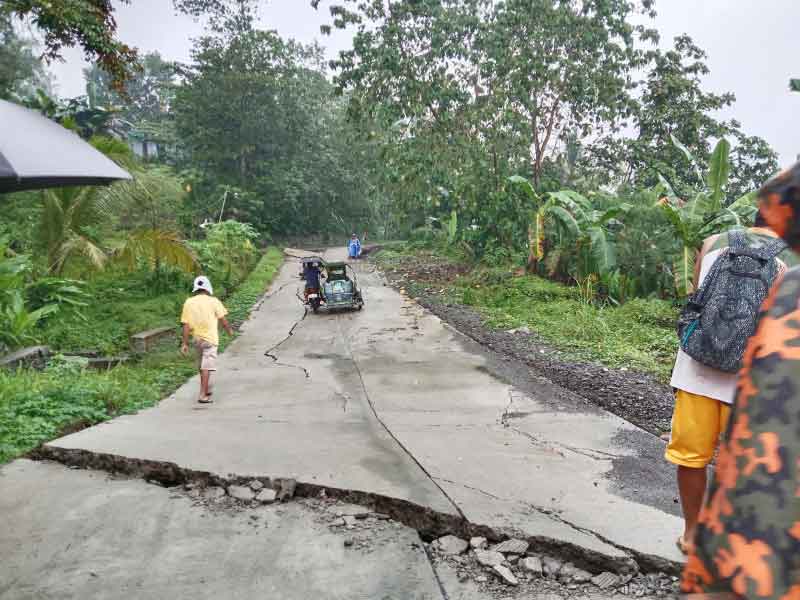 By Rjay Zuriga Castor 
Landslides, damaged bridge approaches, and flooding triggered by heavy rains forced road section closures and evacuation of several villages in Antique on Tuesday.
The Department of Public Works and Highways (DPWH) Bureau of Maintenance identified two national road sections that are currently impassable in Western Visayas.
These areas are the Iloilo-Antique Roads at the Paliwan Bridge due to flooding and elevated water levels and at Brgy. Quianan, San Joaquin, Iloilo due to a landslide and subsequent mudflow.
As the floodwaters subside, DPWH-Antique has reconstructed the temporary access road in Paliwan Bridge, which is only passable to light vehicles as of writing.
Road depression was also monitored along the Iloilo-Hamtic Road in Barangay Igbucagay in Hamtic.
The Hamtic MDRRMO has issued an advisory at 12 noon, urging all vehicles traveling between Villavert-Jimenez, Hamtic, and San Jose de Buenavista to detour in the Lapaz-Tubog Road in Hamtic.
The Municipal Disaster Risk Reduction and Management Office (MDRRMO) of San Joaquin reported the mountain road Indig-asan, San Joaquin in Iloilo was rendered impassable again after it was hit by a landslide on Tuesday morning.
Travelers are advised to use the alternative route through the Tiolas-Anini-y-Dao road.
Meanwhile, the landslide situation at Igbarawan, Patnongon along the national highway, and the coastal road at Punta Hagdan, Tobias Fornier, and Punta Nasog, Anini-y has been declared passable.
The raging floodwaters in Sibalom River have collapsed parts of the flood control structure in Barangay San Pedro, San Jose de Buenavista. Heavy currents also washed out the bridge approach in Sitio Salaksakan, Barangay Ubos, Valderrama.
Initial data from the Provincial Social Welfare and Development Office showed that 637 families or a total of 2, 456 individuals have sought refuge in designated evacuation centers.
The evacuated families are from 45 barangays in the towns of Tobias Fornier, Laua-an, Bugasong, Hamtic, Valderrama, Barbaza, Sibalom, Patnongon, San Jose de Buenavista, and Belison.
The Provincial Disaster Risk Reduction and Management Council (PDRRMC) reported that flooding were recorded in nine towns across the province: San Jose de Buenavista (10 barangays), Belison (5 barangays), Laua-an (4 barangays), Bugasong, Sibalom, Hamtic, Patnongon, Barbaza, and Valderrama.
The PDRRMC on Tuesday morning activated the "red alert" and the "Charlie" protocol, the highest level in emergency preparedness and response protocols, in the province due to the imminent threat of the southwest monsoon enhanced by Typhoon Goring.