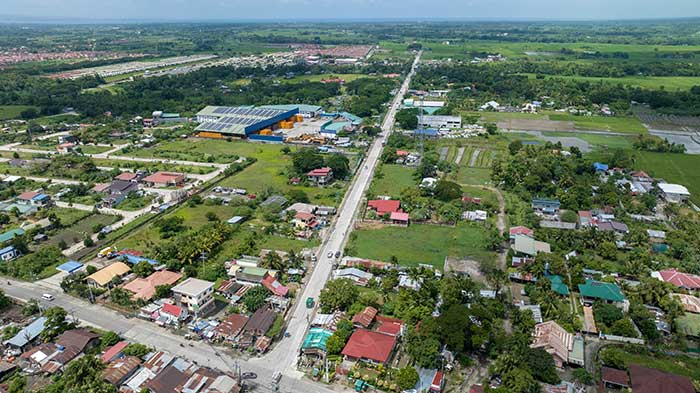 Traveling from San Miguel and neighboring towns to southern Iloilo is smoother, faster, and more convenient with the improved access road delivered by the Department of Public Works and Highways (DPWH).
Undertaken by DPWH, Iloilo 4th District Engineering office, the project involves concrete re-blocking of the 857-lineal portion of Oton-Mambog-Cabolo-Abilay San Jose Road, in Barangay San Jose, San Miguel section in the amount of Php 8.1 million.
As reported by District Engineer Mario G. Soriano, OIC-Regional Director Sanny Boy O. Oropel said the improved road will provide faster, safer, and easier transportation access from central to southern Iloilo, without passing along the main thoroughfare, thus traffic congestion will be minimized.
"This access road also leads to various government offices in Oton as well as the proposed additional office for Land Transportation Office, hence, improving this road section will offer our motorists and the general public a seamless and faster transportation access," OIC-RD Sanny Boy O. Oropel said.
"Improving this road will make a crucial contribution to economic development and growth, especially to local agriculture, providing farmers with a cost-efficient, more convenient, and faster transport of products from farms to the market," RD Oropel added.
Meanwhile, DE Mario G. Soriano said that improving this road will provide better access to employment, social, health, and education services, and enable connectivity and safe mobility.
"The improved road will facilitate better mobility and save time. With this access road shorter travel time from central to southern Iloilo will be ensured, and traffic along major thoroughfares will be decongested," DE Soriano said.
"Road repair is essential for keeping the roads safe and operational. This will minimize poor road conditions due to cracks and potholes that can damage vehicles or even lead to accidents. This effort can reduce traffic congestion and improve the overall traffic flow," DE Soriano added.
An alternate route provides additional capacity to service primary route traffic. It aims to divert primary route traffic a short distance, typically from one point to the next point using a roadway located adjacent to the primary route.
Thus, DPWH is continuously working on building alternate roads to decongest traffic along the main thoroughfares as well as providing access to local communities. (DPWH-6)