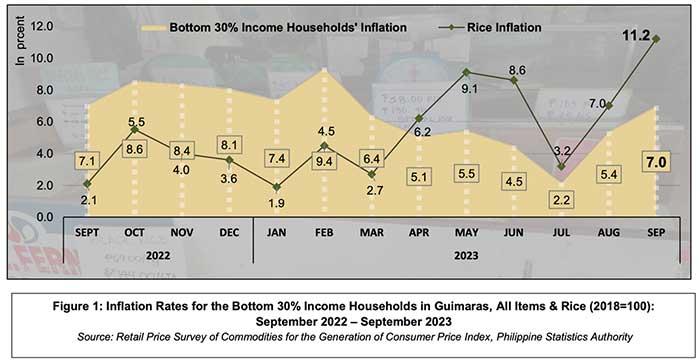 Inflation rate for low-income households (HHs) in Guimaras Province spiked to 7.0 percent in September 2023 from 5.4 percent in August due to the sharp rise in the retail cost of rice at 11.2 percent annual hike, based on the latest price statistics released by the Philippine Statistics Authority (PSA).
"Aside from rice, other food items that cut largely to the Food and Non-Alcoholic Beverages as the No. 1 contributor to the bottom 30% income inflation trend were Meat, fresh, chilled or frozen (ND) with 10.3 percent inflation; and Leafy or stem vegetables, fresh or chilled (ND) with 45.0 percent inflation," Provincial Statistics Officer Nelida B. Losare said.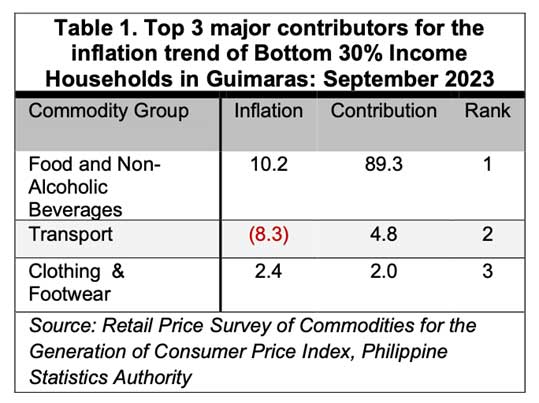 The data also showed that Fish and other seafood (ND) with 2.7 percent inflation also recorded a significant contribution to the food inflation.
Non-Alcoholic Beverages posted a 4.9 percent inflation, chipping in 0.6 percent to the annual price increase of Food and Non-Alcoholic Beverages item in September 2023. 
Losare said that Food and Non-alcoholic Beverages commodity groups shared 89.3 percent, followed by Transport with a -8.3 percent inflation cut by 4.8 percent, and Clothing and Footwear with 2.4 percent inflation contributed 2.0 percent to the bottom 30% income inflation movement.
Other commodities for the bottom 30% income households that showed faster inflation in September 2023 were: Education Services (-7.8%); Recreation, Sport, and Culture (4.9%); Personal Care, and Miscellaneous Goods and Services (11.5%); and Health (-0.2%).
But five commodity groups posted slower price indices: Alcoholic Beverages and Tobacco at 11.2% from 11.6%; Housing, water, electricity, Gas, and other Fuels at 1.1% from 3.3%; Furnishings, Household Equipment, and Routine Household Maintenance at 2.1% from 2.2%; Information and Communication at -1.1% from 1.0%; and Restaurants and Accommodation Services at 8.1% from 11.4%.
The data also showed that only Financial Services (0.0%) posted a steady inflation rate in September 2023 with a 163.6 Consumer Price Index (CPI).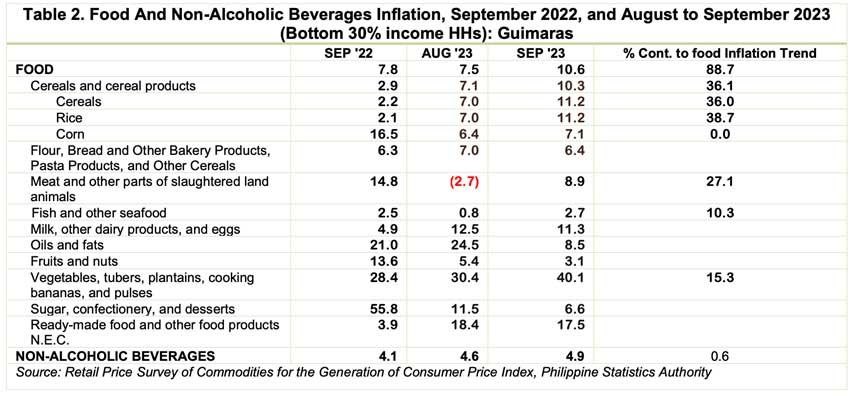 Losare explained further that the Inflation Rate is the rate of change in the Consumer Price Index (CPI) derived by computing the indices of goods and services relative to the same period in the previous year or month. 
"Currently the CPI for the bottom 30% income households in Guimaras posted at 127.7, this indicates that a low-income Guimarasnons needs 1,277 pesos in September 2023 to purchase a basket of goods and services worth 1,000 pesos in 2018," Losare clarified.
Losare also highlighted that based on the relative poverty concept, households whose per capita income falls below the bottom 30 percent of the cumulative per capita distribution belong to the low-income group.
"The inflation rate for the bottom 30 percent income households, who are the most vulnerable to economic and social difficulties, was computed to monitor their welfare," Losare said.