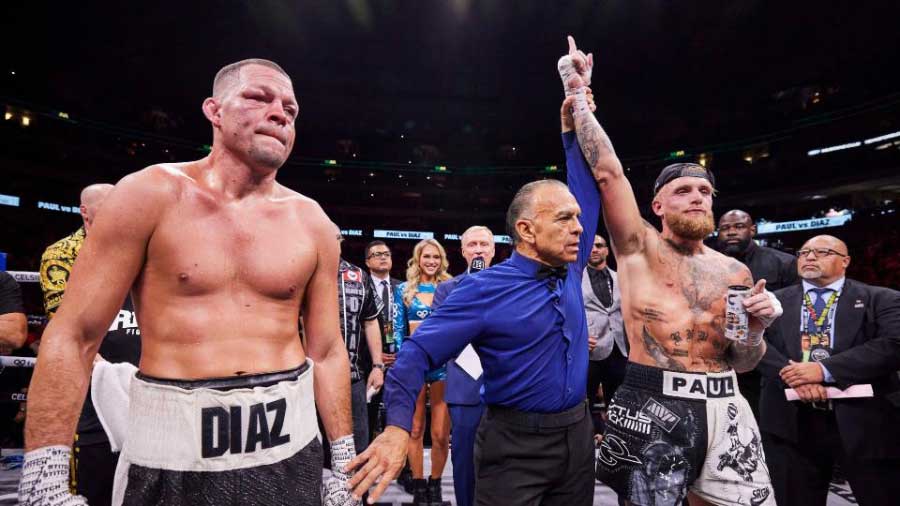 By Leobert Julian A. de la Peña
Is Jake "The Problem Child" Paul really the real deal?
Entering another professional boxing bout with thousands of haters flooding him on social media, the YouTube influencer once again shut them up after emerging victorious against former Mixed Martial Artist (MMA) Nate Diaz via a unanimous decision last August 6, 2023, held at the American Airlines Center in Dallas, Texas.
The cruiserweight clash featured Paul's offensive bag against the former Ultimate Fighting Championship (UFC) star who went up by a decent amount of points at the cards of the three judges.
Two judges scored the fight 98-91 while the other had it 97-92, all in favor of the social media influencer.
Diaz started the bout comfortably after hitting Paul with several snappy jabs and landed a two-punch combination at the end of the first round.
Paul retaliated in the later rounds after applying pressure, moving forward while unleashing his long right straights while moving his head to prevent getting tagged from Diaz's power.
The MMA brawler had some moments in the third round after landing another massive combo sequence but as the fifth round started, Diaz started to feel fatigued and failed to move like he did in the first four frames.
Paul then capitalized on Diaz's fatigue after scoring the only knockdown of the fight in the fight, punishing the MMA fighter with a solid left hook to the chin.
Despite the power, Diaz stood back to his feet and even engaged in several exchanges to survive the fifth round.
It was then all Paul until the last round as Diaz just looked gassed out in the remaining time of the fight and even stopped throwing punches in different periods of rounds eight and nine to preserve his energy in the last three minutes of the fight.
Diaz's loss completed Paul's trifecta of UFC victims who dared to challenge him inside the boxing ring. First was former welterweight champion Tyrone Woodley and his second MMA opponent was the great Anderson Silva.
After the fight, the biggest question still remains unanswered for Paul and his camp. When will he challenge a legit professional boxer to earn the respect of the fans?