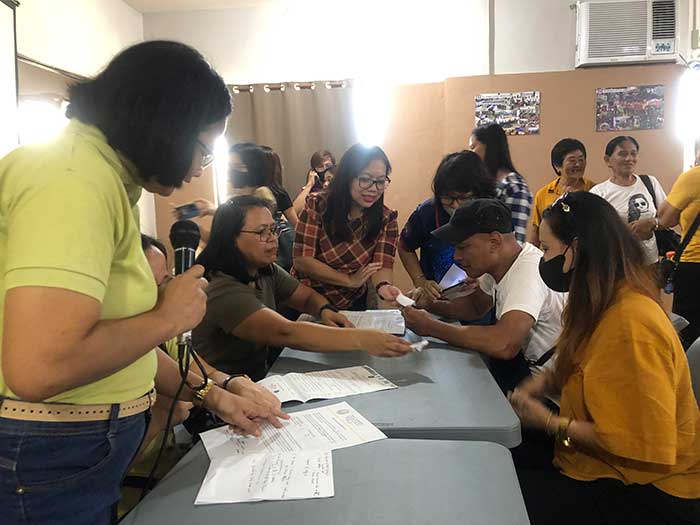 By Glazyl Y. Masculino
BACOLOD City – "It's God's will."
This was the reaction of Barangay 21 Kagawad Raymund Jude Garcia, who won in this year's Barangay and Sangguniang Kabataan Elections (BSKE), through the drawing of lots held at the Liga ng mga Barangay building yesterday.
Garcia turned emotional as he spoke to the media following his proclamation by the Board of Canvassers (BOC) as the seventh kagawad of Barangay 21. He and party mate Melbeth Ramirez both garnered 163 votes during the BSKE on October 30.
He said that it was his second time to experience a tiebreaker situation after the 2007 barangay election where he also ranked seventh. He ranked fifth in his second term, and currently he is on his last term.
Based on the data of the Commission on Elections (Comelec), 44 SK Kagawad and six Barangay Kagawad in 19 barangays were affected of the tiebreaking.
However, the Comelec only broke the tie for the seventh spot in five barangays.
Winning candidates for SK Kagawad who secured the seventh spot through the drawing of lots were July Mar Fernandez, Lyka Gulisao, Marian Pantaleon, and Ray Martin Tabara, of Barangays 10, 11, 26, and 29, respectively.
Meanwhile, the Comelec has also used drawlots to determine the ranking of candidates with the same number of votes.
These candidates were from Barangays 3, 6, 8, 9, 19, 21, 24, 25, 26, 29, 30, 31, 32, 33, 34, 37, and Montevista.
Atty. Kathrina Trinio-Caña, city election officer, said that a barangay official should be elected as embedded in a public policy, and not by agreement of the parties affected by ties.
"Indi puwede na ma agree lang kamo or may ma concede or mapaiway kay dapat ma elect gid ta," she added.
Caña also said that the determination of ranks is to establish the rule of succession in the barangay.
The assumption of office of the winning candidates will depend on the declaration of their Statement of Contributions and Expenditures (SOCE).
She added that no barangay officials have submitted their SOCE, as of Friday, November 3.
She said the Comelec is still in the process of encoding the voter's turnout before they could release the actual number.
On the other hand, Caña thanked those who have helped ensure a peaceful and orderly BSKE in this city, especially the police and the teachers.