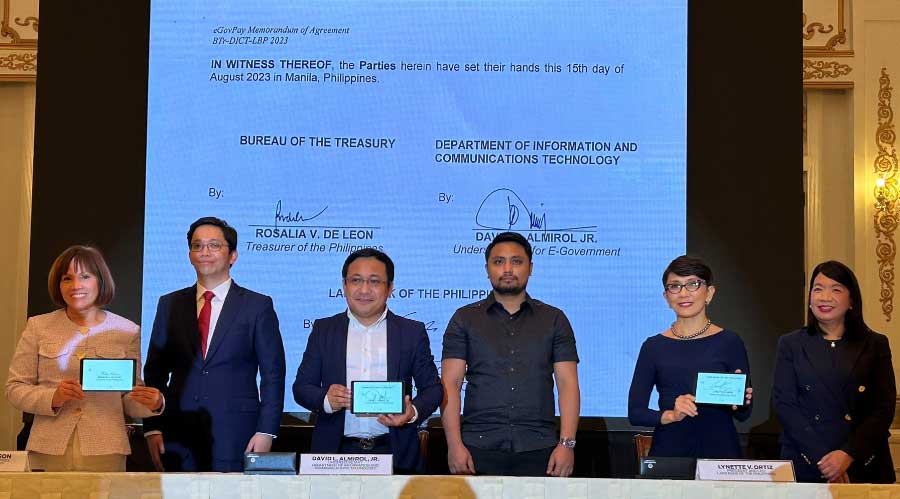 The Land Bank of the Philippines (LANDBANK) has joined hands with the Department of Information and Communications Technology (DICT) and Bureau of the Treasury (BTr) to develop a single platform for all government payments.
National Treasurer Rosalia V. De Leon, DICT Undersecretary David L. Almirol, Jr., and LANDBANK President and CEO Lynette V. Ortiz led the signing of a Memorandum of Agreement (MOA) on 15 August 2023 in Manila to formalize the collaboration for the electronic Government Payment Platform (eGovPay).
"We are proud to contribute to this ground-breaking initiative and lay the foundations for a centralized digital payment gateway. We are set to revolutionize how the whole government handles payments, and more importantly, provide convenience to fellow Filipinos than ever before," said LANDBANK President Ortiz.
The eGovPay platform introduces a secure and centralized gateway that simplifies payment acceptance for government agencies. The platform is designed to enhance the government's data management and reporting capabilities, slash costs tied to manual operations, and streamline the reconciliation process.
Under the partnership, LANDBANK assumes the role of depository and financial settlement bank for eGovPay.
The DICT will act as user and application administrator to onboard Payment Service Providers (PSP) and Government institutions to the eGovPay, and will ensure the smooth integration of different payment channels to the systems of LANDBANK.
Meanwhile, the BTr will be responsible for ensuring full compliance of LANDBANK and DICT-covered agencies to the Treasury Single Account Framework, particularly on the collection and remittance of internal revenue taxes, custom duties and other national collections.
This tripartite collaboration follows the development agenda of President Ferdinand R. Marcos Jr. to prioritize digitalization and promote digital payment solutions for the efficient delivery of public service.
The eGovPay will also support the Adoption of Digital Payments for Government Disbursement and Collections pursuant to Executive Order (EO) No. 170, and Republic Act No. 11032 which promotes the Ease of Doing Business and Efficient Delivery of Government Services.
This initiative likewise complements LANDBANK's own phygital strategy towards improving access to reliable, relevant, and convenient financial services by continuously expanding touchpoints nationwide while developing more responsive digital channels.
LANDBANK is celebrating its 60th anniversary this month, representing six decades of uplifting lives, empowering communities, and serving the nation — all in pursuit of an inclusive and sustainable economy.