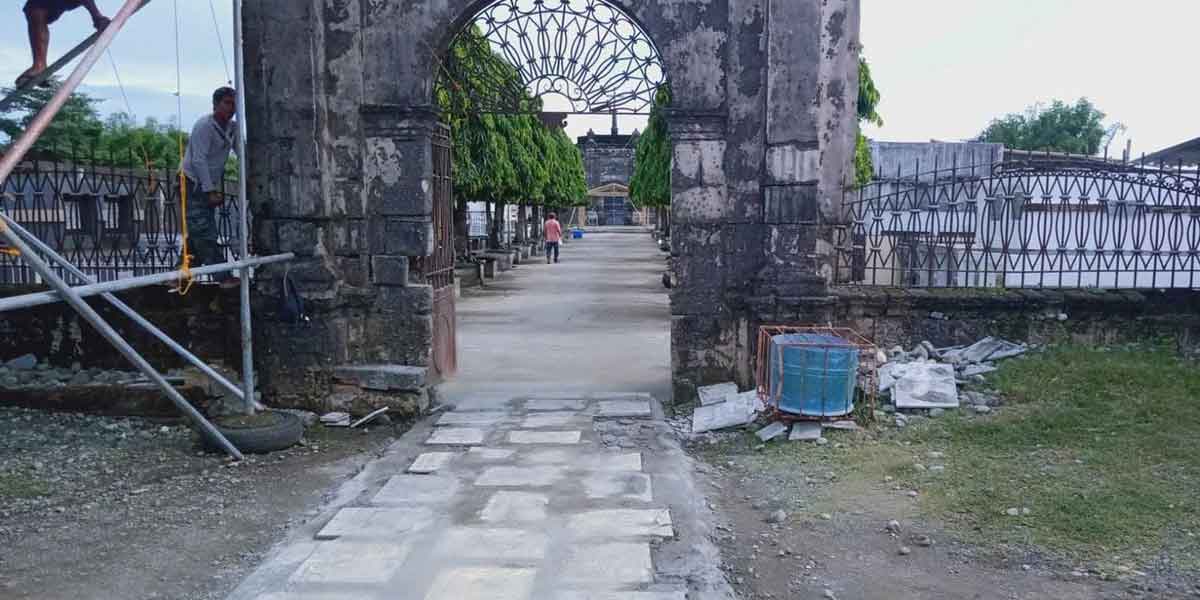 By Jennifer P Rendon
It might be an ingenious way for some but the use of lapida or tombstones did not sit well among parishioners of Cabatuan, Iloilo.
The incident came to the fore when Dionisio Caspe, an administrator of the UCab-United Cabatuanons Facebook page, posted two photos showing a concreted path walk leading to one of the entrances of the Cabatuan Catholic Cemetery.
The pathwalk was covered with tombstones, prompting Caspe to ask if relatives of the departed ones agreed with the move.
His post reads, "I have received these disturbing photos about our Catholic cemetery. Ang mga lapida ginhimo nga tiles sa pathwalk pasulod sa patyo. Nagpasugot ayhan ang mga himata ka natungdan nga himuo nga daw tiles ang mga lapida. Ano dya man? Is there no better way of disposing of these lapidas? May dyan man guro."
(The tombstones were used as tiles of the path walk at the cemetery's entrance. Did the families agree to this? Is there no better way of disposing of these lapidas? I think there are.)
The post's comment section was bombarded with mostly negative reactions from the UCab page members.
Built under the supervision of Fr. Juan Porras and later on by Father Cesareo Prodigo and was continued by Father Manuel Gutierrez in 1890, the Cabatuan Catholic Cemetery was blessed on Feb. 4, 1894.
Built of gray stone, it is enclosed on all four sides by a solid limestone base with artistically-designed steel railing.
It is said that its walls and chapel were made of stones quarried from the mountains in Leon town. The cemetery was damaged during the 1948 Lady Kaykay earthquake but was reconstructed later. It is the country's only existing Spanish cemetery in a perfect square.
Meanwhile, a UCab community member commented, "Hahaha ano nga isip man lapida ang gin butang wala badjet simento joke kaayo nga design ba ."
(What has gotten into them to use the tombstones? Was there no budget for cement? The design is a joke.)
Another user commented that those who thought about it should have the tombstones in the living room of his house.
But within the day, the Cabatuan parish ordered the tearing down of the path walk.
Larry Adoracion Velasco II responded within the day: "My dear fellow Parishioners thank you for your concern sa aton patyo and Church and our apologies. Manami kay mga active kita mag suggest or mag comment diri sa social media. We hope that in supporting our Parish programs you do the same eagerness and activeness."
(My dear fellow Parishioners thank you for your concern for our cemetery and church. Our apologies. It's good that we are active in suggesting and commenting on social media. We hope that in supporting our Parish programs, you show the same eagerness and activeness.")
Velasco added that those who have suggestions or project proposals could come to the parish office and inquire with the vicars or send a personnel message to members of the pastoral council.
Velasco said they hoped to get constant financial support in concreting the pathway inside the cemetery.
As it is, the parish spent P1 million to pave the pathwalks in the cemetery.
The work has already been completely finished but the parish still owes P300,000 to an unnamed hardware, he added.
As to the tombstones that were used in the path walk, he said that these were discarded but they had to reuse them. He then reported that they had it torn down.
"On behalf ni Fr. Francis (Nicolasora), pasensya gid sa inyo natandog nga mga balatyagon. (We asked for an apology if we offended you). Our parish is asking for your prayers and cooperation in this endeavor.  For the Greater Glory of God!" he said.
Fr. Nicolasora is the parish priest of Cabatuan.
Meanwhile, Caspe said that what happened should be a lesson learned.
He also asked families of the departed ones to be responsible for disposing of used or discarded tombstones.