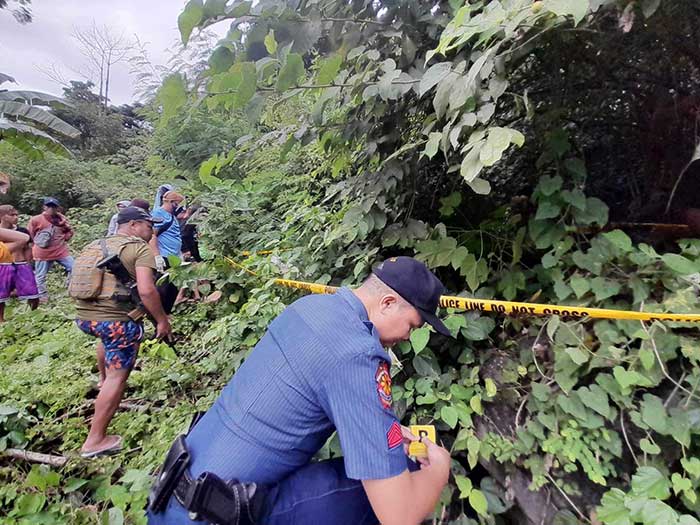 By Glazyl Y. Masculino
BACOLOD City – A man surrendered to the police last Friday, hours after two brothers were found dead at Sitio Mantuhod, Barangay Cabacungan, La Castellana, Negros Occidental.
Police Major Nelson Amsiwen Jr., town police chief, said that 32-year-old Jeffrey Landisa surfaced at the police station after learning that the two victims died. He also turned over the bladed weapon used in the incident.
Amsiwen said the suspect allegedly stabbed and hacked his two brothers-in-law last Wednesday, two days before their bodies were found in a grassy and remote area of Barangay Cabacungan last Friday.
Police identified the victims as Jason Moreno, 29, and Lito Moreno, 24, both residents of Sitio Malig-on, Barangay Upper Linothangan, Canlaon City, Negros Oriental.
Prior to the incident, Amsiwen said the victims fetched the suspect from his house for charcoal making.
However, while they were walking, the suspect alleged that the victims tried to attack him first, prompting him to stab and hack them, Amsiwen said.
Amsiwen said the suspect allegedly attacked the elder victim first, and then chased and also stabbed the younger victim, who was found a few meters away from his older brother.
Amsiwen said they are looking into grudges as the motive in the incident since the suspect and the victims had allegedly previously threatened each other.
"Parang inunahan niya (suspect) na lang iyong magkapatid," the police chief added.
Amsiwen said the family did not elaborate on what triggered or caused their grudges against each other.
He said that two counts of murder will be filed against the suspect.