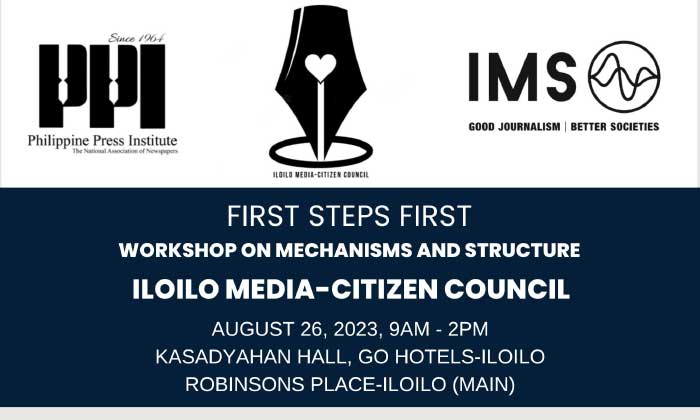 The Iloilo Media Community and public sector partners gathers for a 1-day workshop on the mechanisms and structure of the Iloilo Media-Citizen Council (IMCC) today, August 26, 2023.
The workshop at the Kasadyahan Hall of Go Hotels in Robinsons Place-Iloilo (Main) will include major news organizations in Iloilo, including print, broadcast and online.
Representatives from the business sector (Iloilo Business Club and Philippine Chamber of Commerce and Industry-Iloilo), academe, youth, LGBTQ, and legal communities are the major participants in the workshop.
The half-day workshop that will formulate the council's frameworks on mediation, membership, and other matters that are essential to its operations.
Ariel Sebellino, executive director of the Philippine Press Institute, will keynote the workshop.
The IMCC was conceptualized and formed from June to August 2022 with help from the Philippine Press Institute and the Hanns Siedel Foundation.
The core purposes of the IMCC are the following:
-to provide a mechanism for RIGHT OF REPLY if a news subject feels treated unfairly in a news report (redress and mediation), instead of filing legal charges;
-to promote accountability and responsible/ethical journalism amongst media practitioners;
-to render legal assistance for journalists who will face legal problems;
-to provide incentives to news outlets who practice ethical and responsible journalism;
-to make a stand/statement on issues besetting journalists;
-develop and train news organizations and workers on the latest trends in journalism; and
-to engage members/sectors of the community in agenda-setting and solutions to problems and issues surrounding the media and the public.
Press Councils are nothing new. There is a national one under the PPI and one in Cebu City called the Cebu Citizens-Press Council, the Davao Media-Citizen Council in Mindanao and the Kordilyera Media-Citizen Council in Northern Luzon. More councils are also being established through the efforts of the PPI.
This activity is fully supported and funded by the Philippine Press Institute and the International Media Support (IMS).