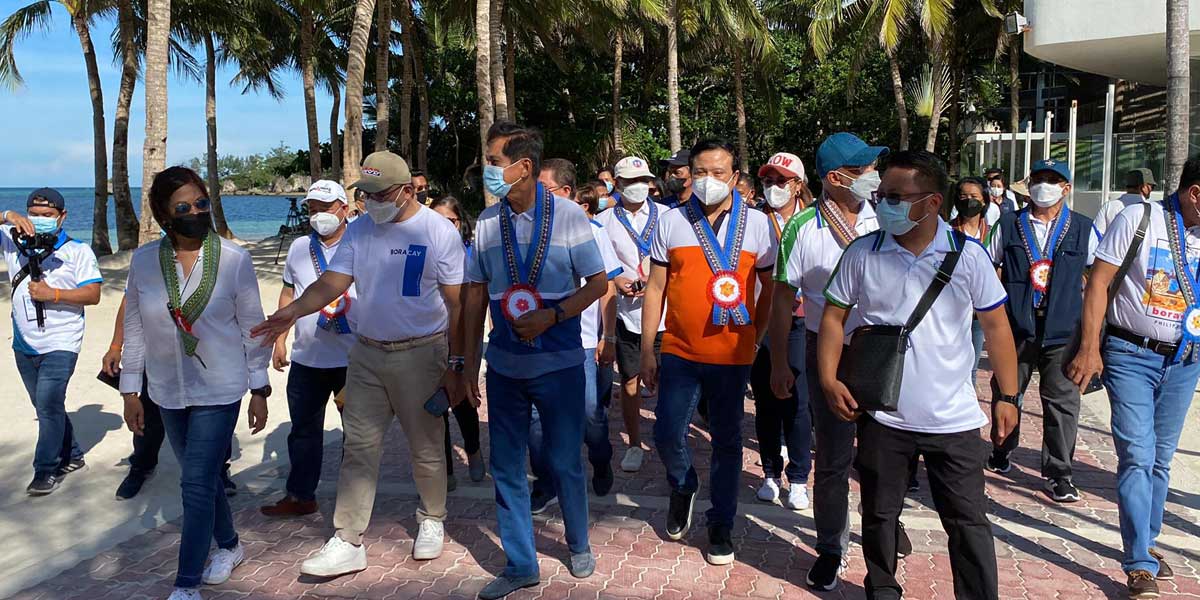 By Joseph B.A. Marzan
"Mission accomplished, Mr. President [Duterte!]"
Department of Environment and Natural Resources (DENR) Secretary Jim Sampulna on Thursday claimed victory in the Duterte administration's continuous "grand makeover" of Boracay Island in Aklan, as it turned over the island's reins to the local government.
Sampulna led the culminating activity of the Boracay Inter-Agency Task Force (BIATF), the main group composed of different national government agencies, which took charge of the island's rehabilitation and its maintenance after reopening to the public in October 2018.
The acting environment secretary took pride in how Boracay was cleaned since its closure in April 2018, citing the low levels of bacterial coliform from the island waters' samples tested.
"We can now see by the shorelines, along the beach, how Boracay has been cleaner. Before, the coliform level was by the thousands, and now I only ask for 100 plus but they give me only [between] 70 to 80, which is very much liveable. It doesn't stink anymore. All of that is because of former [DENR] Secretary Roy Cimatu. We acknowledge that much of this was planned by Secretary Cimatu," Sampulna told media.
He cited the wetlands, roads, and sidewalks, which were developed with the Department of Public Works and Highways (DPWH) and private companies who adopted the wetlands.
"The [Balabag Wetland Park], this used to be a wasteland. Now, what you are seeing is a wetland from paradise. We have so much wetlands fixed, aside from the road, and I thank the DPWH for coming out with the roads," he said.
Sampulna said Executive Order No. 53, which created the BIATF, made him feel tough even as he said he was personally hurt by demolition works they conducted.
"My heart hurt when we started demolishing houses, even in the [beachfront]. Because of [Executive Order No. 53] from [President Duterte], who is a strong man, I also became strong. We opened so many roads, which had nice houses in their middle," he stated.
The BIATF culmination also kicks off the gradual turnover of the island's management to the local government unit (LGU) of Malay, Aklan, that is set to be completed on June 1.
Sampulna said that in addition to maintaining the island's rehabilitation, they should also seek improvement of its features, facilities, and services.
He mulled the appointment of a local ENR officer to continue monitoring the carrying capacity as well as the LGU's compliance with local and international environmental standards.
"We have done already our part, so I would challenge [the Malay LGU] to make good of what Boracay is, because Boracay is of the Filipino people, not just theirs. They need to improve and maintain this beauty of Boracay," the environment secretary said.
But the environment chief hopes that President-elect Ferdinand Marcos Jr. would continue the gains made by the outgoing administration, mulling recommending Marcos to continue the existence of the BIATF.
"For [Marcos], we are informing you sir that Boracay is now clean, and we hope that we can keep [the island] like this. [Marcos] has a lot of experience, he is a good leader, so I think he would continue this," he stated.
"[Boracay Island] is a crown jewel of the Philippines. This is [an] internationally-known vacation and leisure beach resort [island], so if he doesn't continue [the island's maintenance], it would be difficult and our gains would be destroyed," he added.
Boracay Island was closed on April 26, 2018, via Proclamation No. 475 issued by President Rodrigo Duterte, and was reopened on October 26 of the same year.