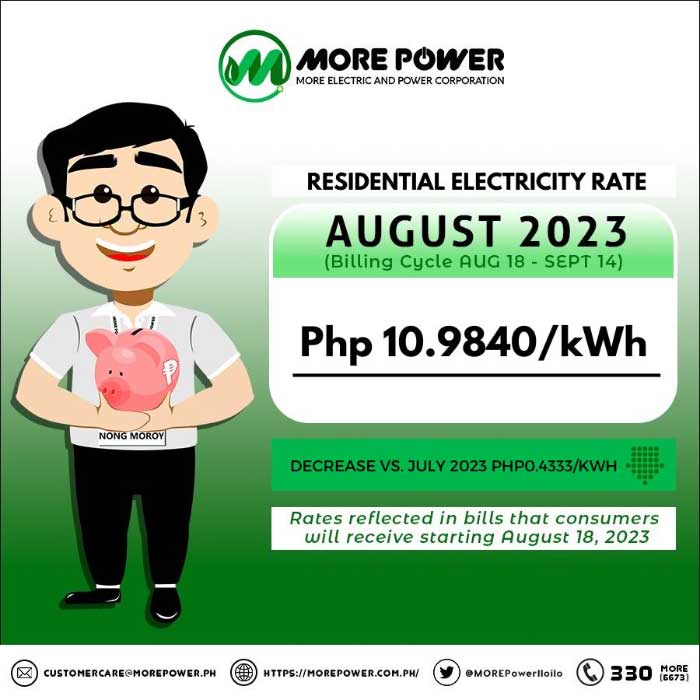 Iloilo City – MORE Power continues to work towards consumer relief as it announces yet another significant reduction in the effective total residential electricity rate for August 2023.
Despite the increased power delivery and ancillary service charges imposed by the National Grid Corporation of the Philippines (NGCP), this marks the eighth time this year that MORE Power has succeeded in lowering the cost burden on its valued customers.
"We are pleased to announce that electricity rates in Iloilo City have decreased for the eighth consecutive month this year. Our commitment to providing affordable electricity remains steadfast. Despite challenges, we persist in delivering tangible benefits to our customers. This achievement stands as a testament to the dedication and patience of our Energy Sourcing team, as they consistently seek cost-efficient power generation supply, incorporate renewable energy, and leverage favorable market conditions," said Roel Z. Castro, President and Chief Executive Officer of MORE Power.
MORE Power has achieved an effective residential electricity rate of P10.9840/kWh for August billing, lower by P0.4333/kWh compared to the previous month's rate of P11.4173/kWh.
The increased delivery and ancillary service charge of P0.0659/kWh was counterbalanced by a substantial reduction in the generation charge by P0.3939/kWh.
This feat was primarily attributed to a reduction in fuel costs associated with purchased electricity, particularly from power suppliers such as KEPCO SPC, constituting a 19.06% share in energy procurement, and Sem Calaca Power with a 30.90% share.
Continuing its trajectory of efficiency, MORE Power has further decreased the System Loss charge by P0.0237/kWh, attributing it to a reduction in actual system loss. The current 12-month average system loss as of July 2023 remains at 5.85%.
In alignment with the company's dynamic strategy, lifeline subsidies have undergone adjustment due to the automatic exclusion of residents in subdivisions, condominiums, and villages. Furthering this fiscal prudence, the Universal Charge (UC) for Missionary Electrification (UC-ME) has been reduced following the successful culmination of the 12-month NPC true-up adjustment, which was entirely billed in the preceding month.
The collective impact of these strategic measures has inevitably led to a concurrent decrease in VAT and other taxes, providing consumers with relief from financial strain.
The results of these changes will be reflected in the billing statements of consumers, effective from August 18 to September 14, 2023.
MORE Power kindly reminds valued consumers of the importance of timely bill payment. Consistent on-time payment for 36 months qualifies customers for a refund of their bill deposits paid to MORE Power. MORE Power has already started refunding bill deposits since May 2023 for those eligible customers.