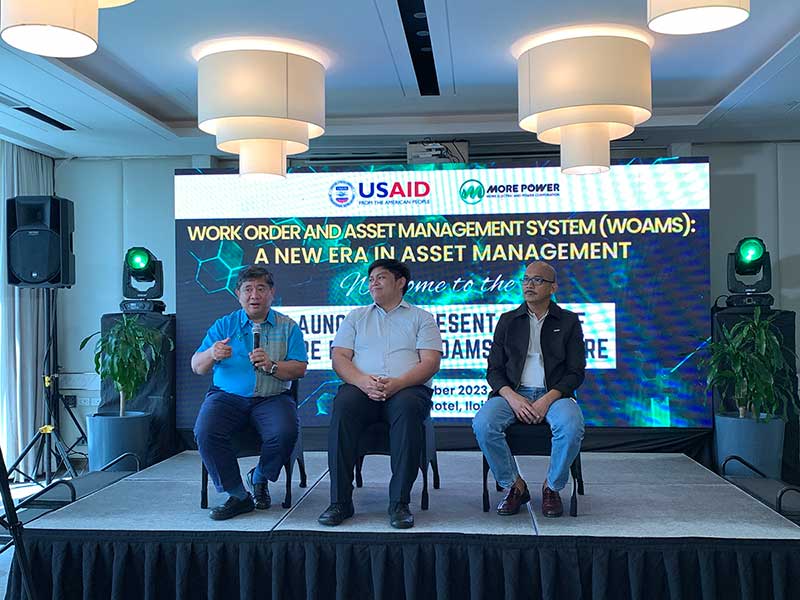 By Rjay Zuriaga Castor 
MORE Electric and Power Corporation (MORE Power), the electric distribution utility of Iloilo City, has introduced a digitalized work order and asset management system (WOAMS) to streamline internal processes and enhance the delivery of its services.
Roel Castro, president and chief executive officer of MORE Power said the state-of-the-art initiative will revolutionize their operations.
"With (WOAMS) I am very sure this is going to be a very big help and a very big relief to us. This time, when this becomes live, we could know every part of the asset in every pole in every facility, we would know the age used, and we would know when it was replaced," he said.
Castro added that the launch of the WOAMS and its promise to enhance customer service will attract more Ilonggos to avail of their services.
"The primary aim of this application or software is to provide utility employees with readily accessible information, enabling us to better serve consumers promptly," he added.
For instance, in situations involving a fallen electric pole, consumers can report the issue to MORE Power by simply providing the post's identification details which will then prompt the distribution utility to provide immediate repairs.
"Currently we have a quality service criterion that we have to respond within 15 minutes and do the repair. Hopefully, we could actually shorten that. The information instead of having a person going to the site, now we would immediately know what it is and our response team could take action faster," Castro explained.
The WOAMS website and application is already operational but MORE Power said additional trials will still be conducted to ensure its reliability and performance.
The development of the system is in partnership with the United States Agency for International Development (USAID) Philippines through its Energy Secure Philippines (ESP) Activity. USAID particularly offered technical assistance for the project's development.
Engr. Bailey Del Castillo, MORE Power's Vice President for Network Development and Operations Group, said that the goal of the cutting-edge application and the centralized platform to eliminate data bottlenecks and automate work orders.
Castillo stressed that this advancement is expected to reduce the need for manual labor and enhance collaboration with service partners.
"Our goal is for each department to have real-time tracking of the work order progress and maintenance history. We aim to enhance collaboration with our service partners by enabling them to access the list of work orders assigned to them and empowering them to provide updates on the progress of their assigned work orders," he added.
The digitalized system will also integrate quality control and contractor billing into a single system.
"All of these envisioned improvements will be directed towards increasing employee productivity, lowering operational costs, and delivering efficient services to consumers," Castillo added.
In his message delivered by his executive assistant, Iloilo City Mayor Jerry Treñas commended the effort of MORE Power in providing efficient and reliable services to the people of Iloilo City.
"Time and again, you embark on programs and projects for the benefit of the people you serve — from providing reasonable power rates, improving and upgrading your facilities to undertaking environment-friendly initiatives like the first-ever zero-emission and fully electric shuttle service in Iloilo City in partnership with SM City Iloilo," Treñas said, who is currently in South Korea for an official trip.
The city mayor further emphasized that the assistance of USAID to MORE Power is timely and significant as it will provide more streamlined, reliable, and productive day-to-day working procedures of the distribution utility.