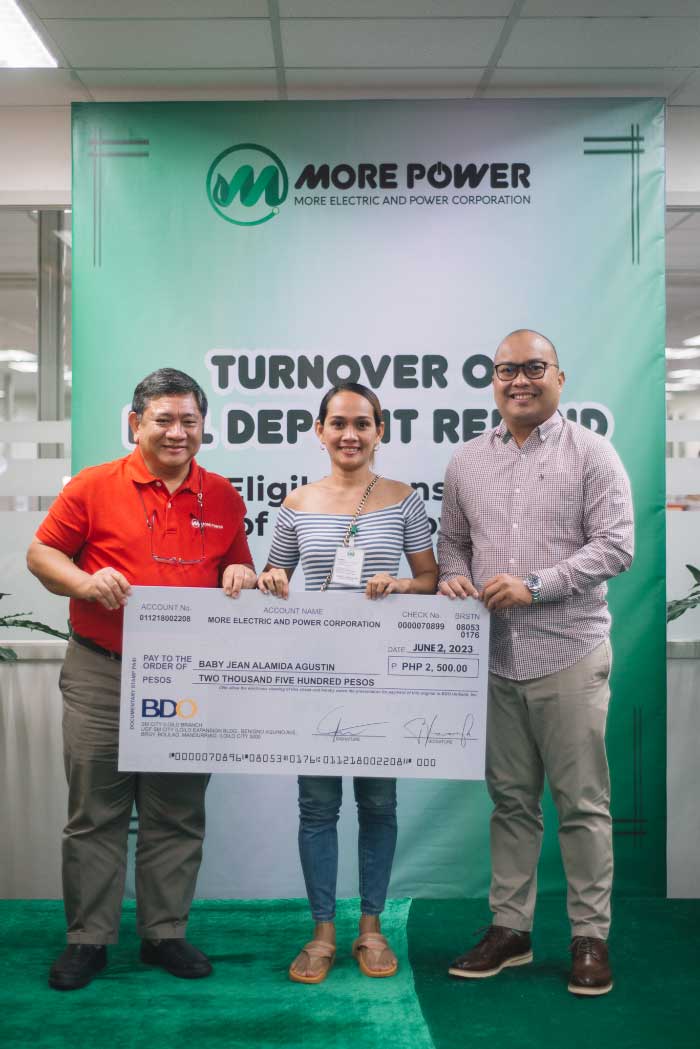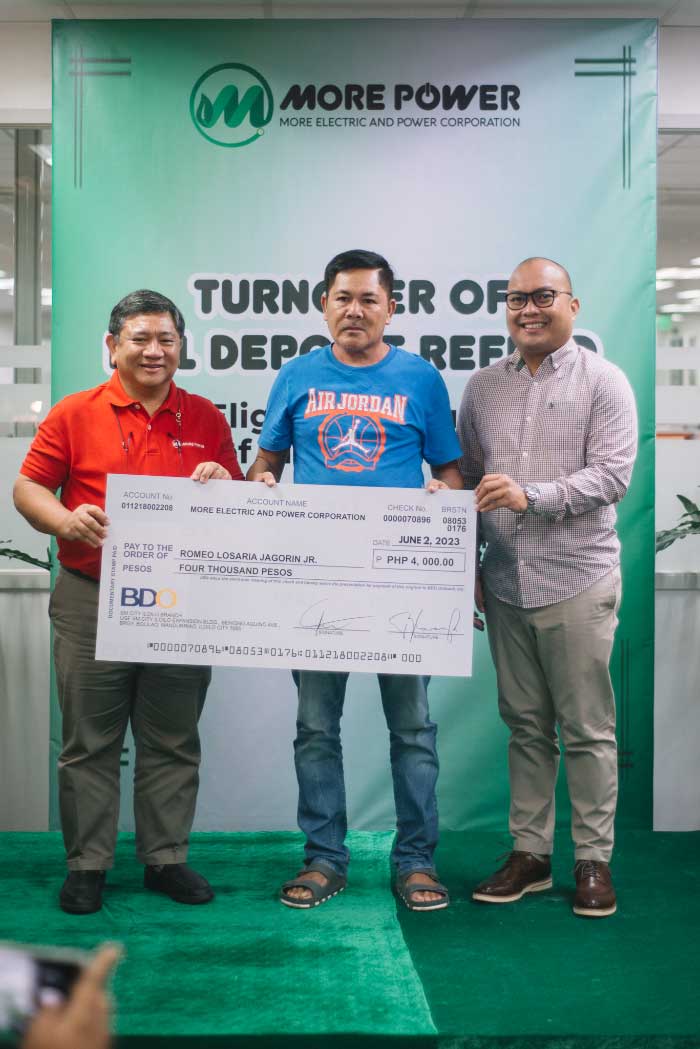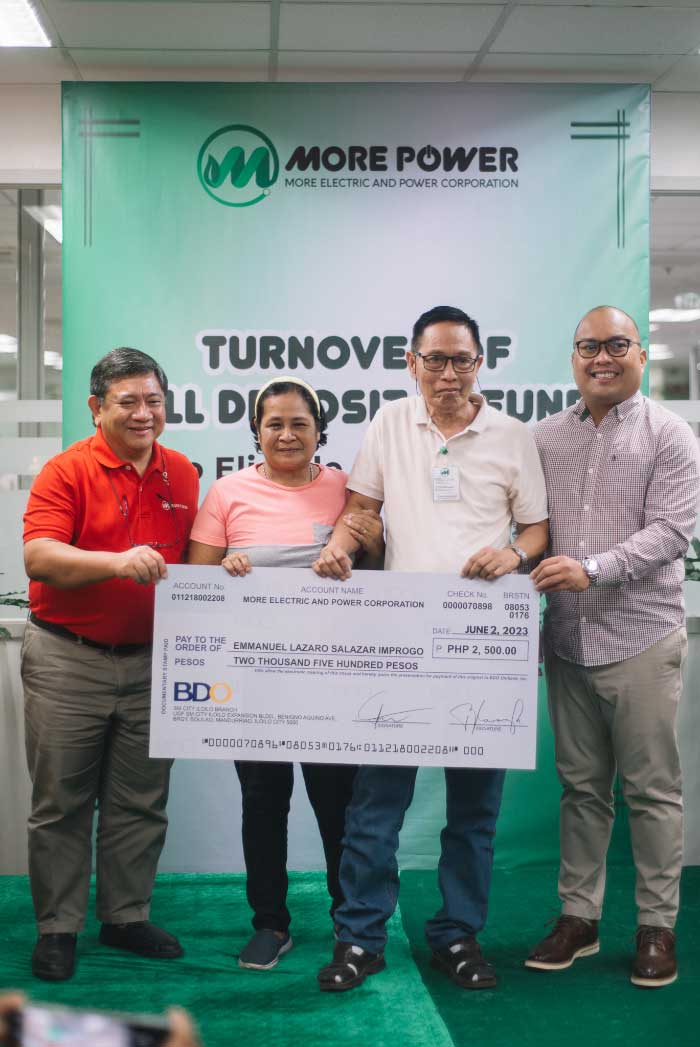 MORE Electric and Power Corporation (MORE Power) consumers in Iloilo City have started to receive the refund of their bill deposits.
The first three customers who received the refund were Emmanuel Improgo, Baby Jean Agustin, and Punong Barangay Romeo Losario Jagorin Jr. of Brgy. Sambag, Jaro, Iloilo City.
They attended a simple ceremony in the office of MORE Power where they formally accepted their checks.
The Bill Deposit is a payment by the consumer by the time they apply for their own electric service.
The refund of the bill deposit is mandated by the Energy Regulatory Commission (ERC) to all distribution utilities (DU), may it be private or electric cooperatives.
This is stipulated in Article 7 of the Magna Carta for residential electric consumers, which was promulgated by the Energy Regulatory Commission (ERC), where DUs should refund the bill deposit after three years or 36 months of paying on time and with no record of disconnection.
For consumers like Baby Jean, who used to tap with a legitimate power connection and utilize a sub-meter so she could pay for her consumption, this is an outstanding achievement. She never expected that she would be entitled to a refund three years after she applied for her connection in May 2020.
"Malaki ang pasalamat ko sa MORE kasi may mga programa sila na irefund ang bill deposit. Thankful ako naqualified ako for a refund. Malaking tulong ito sa amin," Baby Jean Agustin said.
"Hindi na ako umaasa na may refund pala ang bill deposit. Wala naman kasi ito sa dating DU at wala akong narinig na may binabalik na bill deposit. Kaya nagulat ako na tinawagan ako ng MORE na ibalik na daw ang bill deposit ko," Punong Barangay Jagorin said.
"Ito na pala ang sinasabi nila noon na bill deposit refund. Malaking bagay na matanggap ko ito. Kahit 2,500 lang, I am very thankful," Emmanuel Improgo said.
According to MORE Power President and CEO Roel Castro, the company wants to become an example to the rest of the distribution utilities (DU).
"I was asking some DU's, why are you not returning? They said, well, the customers are not asking for it. Again, that is where I can draw the line between the DU that is customer-focused. Because even if the customer does not ask for it, we go out of our way to inform the customers that this is due you and we will return it," Castro said.
"Since we don't have any intention to use the money, we do not have the intention to keep the money; we do not have the intention of using it for our operation; why keep it when it is already due for return, for the refund to customers?" Castro added.
This initiative earned the praise of ERC Commissioner Alexis Lumbatan, who personally attended the ceremony.
"You know, bihirang – bihira po for any distribution utility to return the bill at the instance of the DU. I am so happy that I am here today, taking part in this great milestone. Mismong si DU tumatawag sa mga consumers to return the bill the deposit. For five years, I have been with the commission and I'm the oversight commissioner for consumer affairs. That's why this milestone is very-very close to me," Lumbatan said.
According to Mr. Castro, if some of the consumers they have identified continue to pay regularly on time, they have around P5 million in bill deposits ready to refund to consumers this year.