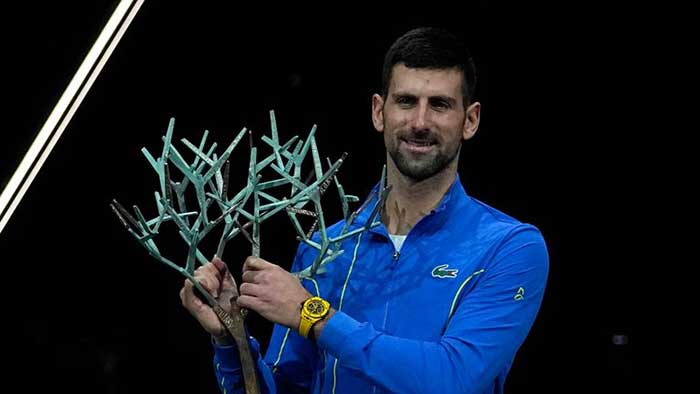 By Leobert Julian A. de la Peña
Serbian tennis superstar Novak Djokovic continued his dominance on the hard court after outdueling Grigor Dimitrov- 6.4, 6.3- during the grand finals of the 2023 Paris Masters last November 6, 2023.
With another ATP 1000 championship title, Djokovic now raised his seventh trophy in Paris and is on the verge of ending the 2023 playing calendar as the world no. 1 tennis player.
Despite a tough baseline action against the veteran Dimitrov, Djokovic showed why he is the record-holder for the men's most Grand Slams won in the history of the sport after executing his quick in-game adjustments to perfection.
Djokovic had a tough time covering Dimitrov's lighting fast forehand strokes during the first four-game sets and decided to mix things up with his deep bag of offense.
From contesting Dimitrov's baseline shots, Djokovic started to attack the net to cut the distance and threw several drop shots to wear him out.
The strategy proved to be effective as Dimitrov then started to slow down with his groundstrokes, picking up crucial errors when he was attempting to force a tiebreak.
Djokovic then stuck to his original game plan at the start of the second set and bullied Dimitrov with his top spin volleys.
Aside from his well-known court mastery, Djokovic also played tremendous defense and scored several return aces to ramp up his intensity.
After the entertaining duel, Djokovic finished the match with six impressive service aces built from 67% first service percentage.
Djokovic only committed a single double fault in the championship match and netted a total of 66 points won.