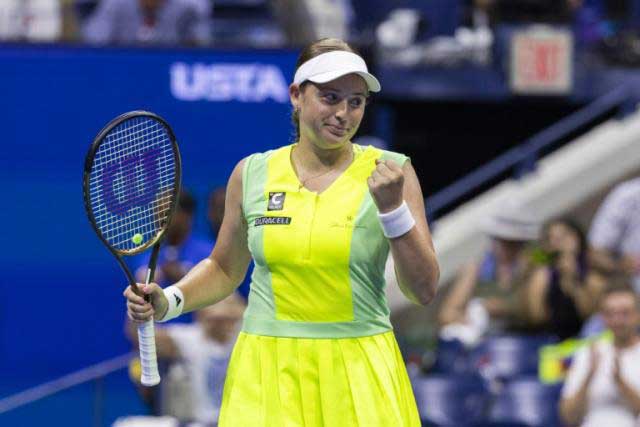 By Leobert Julian A. de la Peña
The world's no. 1 female tennis player is out of the 2023 US Open.
In a fiery Round of 16 elimination match of the women's singles division, Latvian superstar Jelena Ostapenko pulled off one of her biggest career Grand Slam wins after ousting the defending champion, Iga Swiatek- 3.6, 6.3, 6.1- last September 4, 2023, held at the Arthur Ashe Stadium in New York.
Highlighted by her powerful display of groundstrokes in the hard court, Ostapenko caught fire in the second set and completed the reverse sweep to dethrone the reigning queen of the US Open.
The match didn't favor the Latvian after letting her early break point advantage slip away when she failed to hold on to her first service possession.
Swiatek then turned it up in the next five game sets, holding all of her services while capping off the intense first frame with a momentum-boosting break.
Ostapenko generated the same start she had in the first set when she immediately got a service break point.
The difference is that the Latvian took advantage of her baseline strength and continued to pummel Swiatek in the long rally exchanges.
Ostapenko then took full control of the match midway through the second set as she frustrated Swiatek with her unstoppable down-the-line winners to equalize the game at 1-1.
When Swiatek turned to her plan B by playing safe behind the baseline, Ostapenko flipped the switch and threw heavier groundstrokes to pile up her tremendous winners.
There was nothing that the world no.1 could do after Ostapenko went beast mode, allowing Swiatek to just a point in the final set.
Aside from her power hits, Ostapenko also showcased her improved service game as she tallied a total of seven aces built from a 72% first service winning percentage.
Ostapenko also clinched 78 total points won and dominated the receiving game after nabbing 39 total points.
With the win, Ostapenko will now shift her focus to world no. 6 Coco Gauff in the quarterfinal match of the Grand Slam tourney.