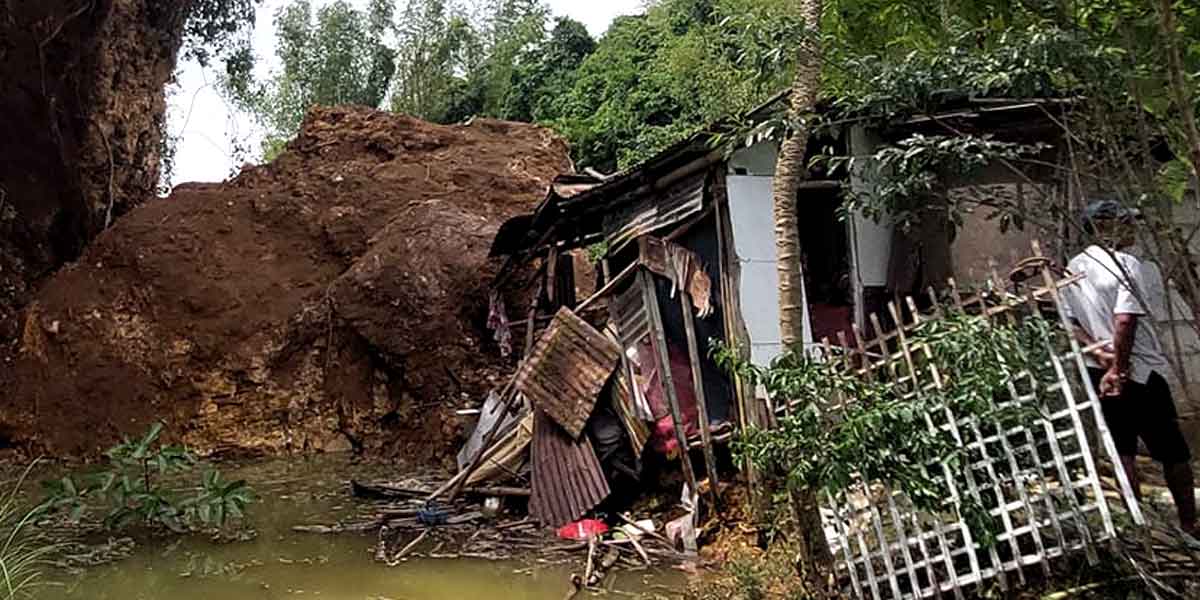 By Rjay Zuriaga Castor
The Provincial Government Environment and Natural Resources (PGENRO) plans to carry out a "georisk assessment" on a quarry site in Barangay Sulangan, Dumangas, Iloilo, following the death of a 19-year-old mother due to a rock slide in the area.
On September 2, the young mother was crushed by a boulder while doing dishes inside their house which is located at the foot of a mountain.
PGENRO head Atty. Caesar Emanuelle Buyco said they are currently working on the report of the incident and have initiated communication with relevant agencies.
"Once the report is finished, According to the PGENRO head, this assessment we will send out communication with the MGB-6 (Mines and Geosciences Bureau-Western Visayas) and coordinate with the [Municipal Disaster Risk Reduction and Management Office] (MDRRMO)para nga mag site validation or georisk assessment," PGENRO head Atty. Caesar Emanuelle Buyco told Daily Guardian.
Buyco added they will inspect the old quarrying sites to assess their potential risks. This assessment, according to the PGENRO head, is crucial for the MDRRMO to identify locations that should be declared as "no-build zones."
"Marequest kami assistance sa ila (MGB-6) nga mga geologist ang mining engineers para sa assessment," he added.
The MGB is a division of the Department of Environment and Natural Resources responsible for administering and managing mineral lands and resources, as well as conducting geological and mineral exploration surveys.
REPORT ILLEGAL QUARRYING
Buyco emphasized that they cannot address the problem of illegal quarrying and mining alone, urging communities and the local government to report any unlawful activities.
"Hindi na namun makaya tanan. Kinahanglan namun ang bulig sang local government nga i-report dapat… We will step-up enforcement and I hope everyone will help us," he said.
"I hope nga makabugtaw ang aton nga municipal officials, ang aton nga barangay officials nga pag may natabo, kamo man dyapon ang una nga manabat sina," he added.
Buyco suspects that the quarry site where the recent fatality occurred might not have the necessary permits.
The quarry approval process typically requires a rehabilitation plan and often involves replacing the original topsoil, reproducing waterways, and replanting local trees.
"Basta legal ang mining, tanan tanan nga avenues or areas ginabantayan ina siya, dala ina siya sa responsibilidad. May post-mining operation rehab ang area kag gina butangan ina siya sang safety measures," he explained.
As of its latest data from PGENRO, there are around 150 quarry permit holders in the province.
Individuals or corporations caught without a mineral or quarry processing permit or license can be penalized under Section 103 of the Republic Act No. 7942. Such offenses can lead to imprisonment ranging from six months to six years, a fine of P10,000 to P20,000, or both.
Offenders may also be liable for damages and compensation for the extracted and disposed minerals.
The provincial government of Iloilo also has an existing ordinance that prohibits quarrying without a permit.
Buyco said they usually refer reported cases of illegal quarrying to the MGB-6 since the penalties imposed by MGB are more severe.
"Sa probinsiya abi, limitado ang jurisdiction ta sa penalidad… amo na nga gina abusaran lang kami," he said.
The PGENRO head, however, noted that illegal mining and quarrying in the province is "not that rampant."
Buyco said permits can be obtained by having the following: an endorsement from the local government, a quarry area map, clearance from the MGB, an Environmental Compliance Certificate from the Environmental Management Bureau, and a work program detailing the extraction process, among other requirements.
According to RA No. 7942, a quarry permit can be granted for an initial period of five years, and it can be renewed for subsequent periods of the same duration, provided that the total duration does not exceed 25 years in total.