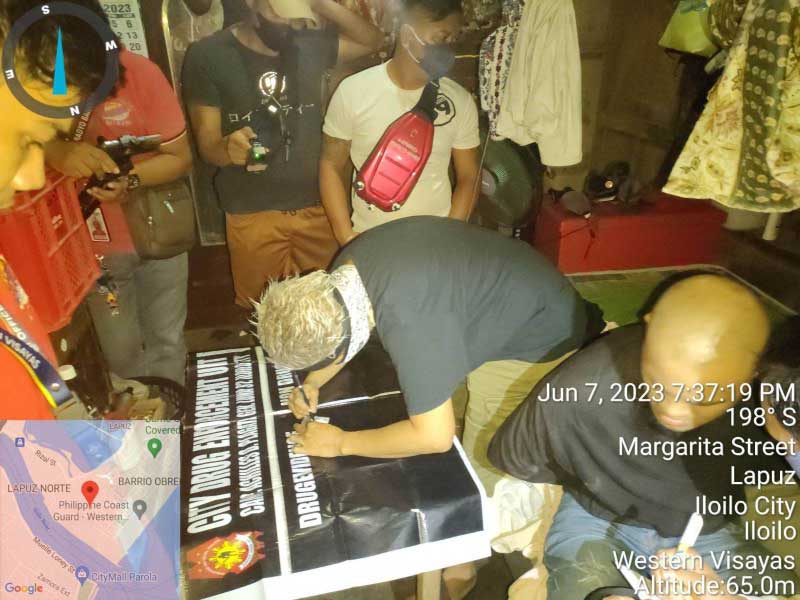 By Jennifer P. Rendon 
More than P1.5 million worth of illegal drugs were seized in two police anti-narcotics operations evening of June 7 at Iloilo City.
The two drug operations happened in a span of two hours in Lapuz and Molo districts.
A big chunk of the confiscated shabu was seized during the buy-bust operation at Zone 1, Barangay North Baluarte Molo at around 9:20 p.m. on Wednesday.
Members of the Regional Police Drug Enforcement Unit (RPDEU) 6, together with the Iloilo City Police Station 4, arrested three men after they allegedly connived in selling a sachet of suspected shabu for P17,000.
The suspects were identified as Danmar Duremdes, 39, and Maressa Duremdes, 61, both residents of Zone 1, Barangay North Baluarte, Molo; and Gene Catalan, 47, of South Baluarte, Molo.
Captain Glenn Soliman, RPDEU-6 team leader, said Danmar was the target of the operation.
Following their arrest, police seized 30 more sachets of suspected shabu from Danmar's possession and two sachets from Catalan.
Also recovered were two mobile phones, an empty pack of wet wipes, a coin purse, and other non-drug items.
Soliman said the seized drugs weighed around 165 grams and were valued at P1,122,000.
Two hours before that, members of the Iloilo City Police Office-City Drug Enforcement Unit (ICPO-CDEU), together with the Iloilo City Police Station 2, arrested Jomare Porras, 32, of Barangay Bo. Obrero, Lapuz.
Porras allegedly sold a sachet of suspected shabu for P10,000.
Porras further yielded with five more sachets of suspected shabu, a mobile phone, a homemade caliber .38 revolver loaded with four ammunition, and a sling bag.
The seized drugs weighed around 60 grams and has an estimated standard drug price of P408,000.
All four suspects will be charged for violation of Republic Act 9165 (Comprehensive Dangerous Drugs Act of 2002).
Porras will also be slapped with a case for violation of RA 10591 (Comprehensive Firearms and Ammunition Regulation Act).