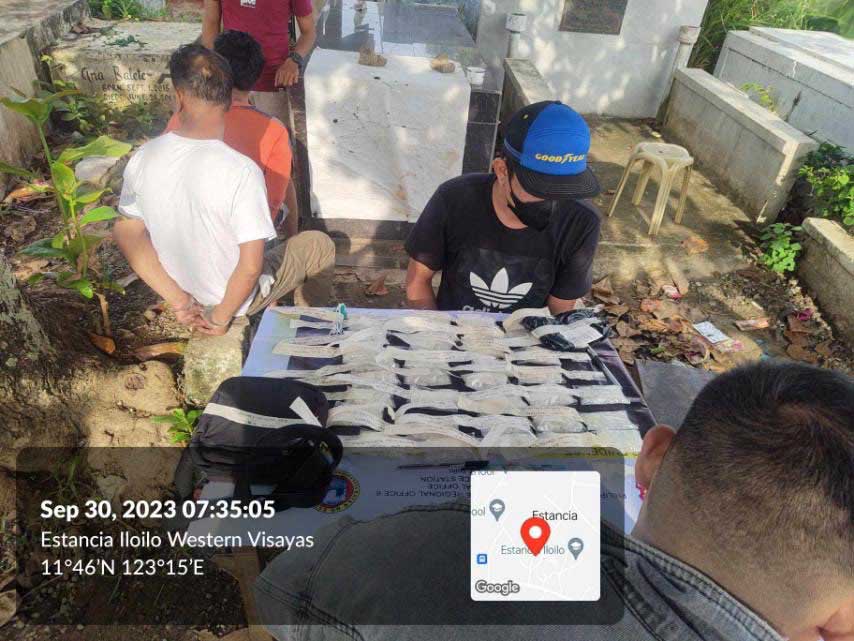 By Jennifer P. Rendon
The local police scored one of its biggest drug hauls in Iloilo.
This, following the arrest of two suspected drug couriers in a police anti-narcotics operation at a cemetery in Barangay Tacbuyan, Estancia town early morning of Sept. 30, 2023.
Police only identified the suspects as alias Rene, 43, of Barangay Sauyo, Novaliches, Quezon City, and alias Renz, 22, of Barangay Gogo, Estancia.
Citing a PNP order, the Police Regional Office (PRO)-6 said they could not mention a suspect's real name.
Members of the Estancia Municipal Police Station, together with Iloilo Police Provincial Office-Provincial Intelligence Unit (IPPO-PIU), arrested the suspects after they allegedly sold a
sachet of suspected shabu for P10,000.
When they were subsequently frisked, police recovered 37 more sachets of suspected shabu and other non-drug items.
Lieutenant Renzo Martinez, Estancia police chief, said the seized drugs weighed around 1.6 kilograms and with a standard drug price value of P10,880,000.
Martinez said Rene, the target of the operation, hails from Estancia town but relocated to Metro Manila in 2002.
Recently, he was monitored to be frequently seen in Iloilo and was later found to be distributing shabu to drug personalities based in Iloilo City.
Rene allegedly sourced his supply from an associate allegedly incarcerated at the New Bilibid Prison.
As Rene is expanding his network in Iloilo, Renz has served as his driver and runner.
Martinez said the suspect's supply arrived the day before they were arrested.
"The supply was still intact and is yet to be distributed to drug peddlers in Iloilo," he said.
Rene and Renz are now detained and will be charged for will be charged for violation of Republic Act 9165 (Comprehensive Dangerous Drugs Act of 2002).