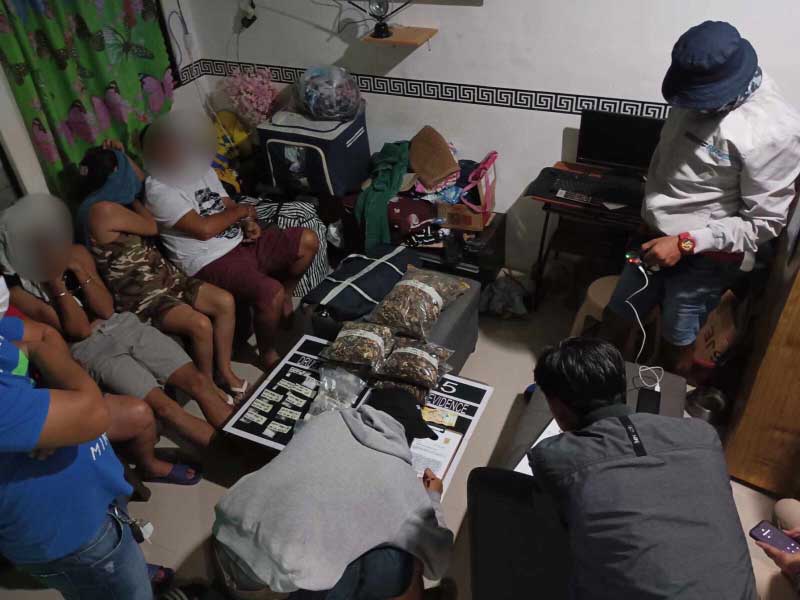 By Glazyl Y. Masculino
BACOLOD City – Police Major Joery Puerto, head of Police Station 5, has warned the public about the existence of magic mushrooms that can be used as party drugs.
This, after police seized 3.610 kilograms of magic mushrooms worth P361,000 from three persons, including a couple, in a buy-bust operation in Barangay Cabug here last Monday.
Arrested were Diane Tolmo, 35, her live-in partner Fierre Santillana, and Tolmo's brother Franz Jovi, 26, all residents of the said village.
Puerto said they discovered the magic mushroom after the younger Tolmo allegedly offered it to a police agent during the drug bust.
Puerto said Franz told the police that he was sourcing the mushroom from Don Salvador Benedicto (DSB) in Negros Occidental, and he's the one processing and disposing of it online or through a courier service provider.
Puerto said that it was the first time he heard about it and confiscated such contraband here.
He added that magic mushrooms can allegedly give a hallucination effect to a person if used improperly.
"Basi may addiction effect kung sobra," Puerto said, adding that it can allegedly be used as party drugs like ecstasy.
Puerto said that others claimed that magic mushroom has a medical effect, but it has not been proven yet.
"It's not safe for consumption. Basi may mag abuse kag ma overdose and basi may mapatay pa," he added.
Puerto said the subject of the operation was Diane, but her brother Franz was also allegedly in conspiracy with her in the illegal drug trade.
Also recovered from the three suspects were 13 grams of suspected shabu worth P88,400, the P500 marked money, and P400.
Puerto said that he's been monitoring Diane since he was still the commander of Police Station 8. However, it was this time that he was able to corner her.
Puerto said that Diane's older brother was previously jailed at the New Bilibid Prison (NBP) in Muntinlupa City, and was released last year after he had served his sentence for a drug offense.
But, her brother was back in jail after he was again arrested in a drug bust here this year, Puerto added.
Puerto said that Santillana also returned to jail for the same offense. He was previously arrested for a drug offense and was later released through plea bargaining, the station commander added.
He said that Franz will be charged for violation of Republic Act (RA) 9711 or the Food and Drug Administration (FDA) Act of 2009, and another charge for conspiracy in relation to RA 9165 or Comprehensive Dangerous Drugs Act of 2002.
He also said that the couple will be facing drug charges.