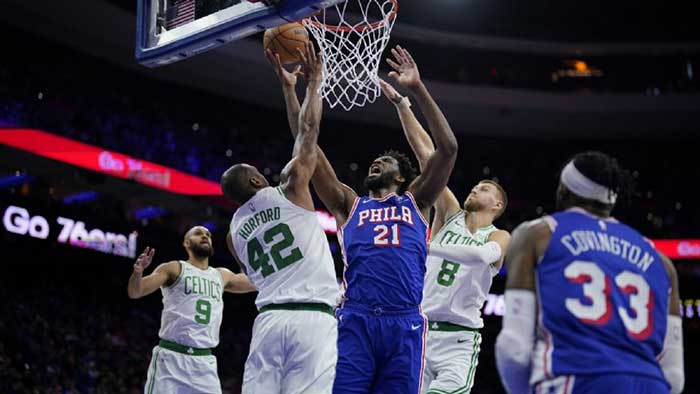 By Leobert Julian A. de la Peña
The Philadelphia 76ers prevailed over their Eastern Conference rival Boston Celtics, 106-103, last November 9, 2023, in the ongoing NBA regular season.
Aiming to clinch six consecutive wins after their opening loss to the Milwaukee Bucks, the 76ers banked on the dynamic duo of reigning Most Valuable Player (MVP) Joel Embiid and superstar guard Tyrese Maxey who combined for 52 points.
Embiid was dominant on both ends of the floor after finishing the game with 27 points, 10 rebounds, four blocks, four assists, and a steal.
Meanwhile, Maxey continued to shine for Philadelphia and proved he can fit the shoes James Harden left when he dropped 25 points, nine rebounds, and five assists.
The 76ers weathered an early offensive storm from the Celtics as the men in green and white controlled the pace of the game during the first 17 minutes of action.
However, after Philadelphia interior defense began to bother Boston midway through the second quarter and held them scoreless for four minutes while retaking the lead.
The 76ers then didn't look back after their fiery second-quarter performance on both ends and were in cruise control of the game until the fourth.
With 3:47 remaining in the final frame, Philadelphia was in the verge of officially fending off the Celtics after Tobias Harris drilled a triple that ballooned their lead to 15 points, 102-87.
Just when the 76ers thought they could run over Boston in their home floor, a familiar sight once again silenced the crowd when the Celtics completed a 13-2 run to cut their deficit to just four points, 104-100, with still a minute to go.
Embiid then answered the call for Philadelphia and buried the cold-blooded fade-away jumper from the left block to extend their cushion back to six points, 106-100.
Jaylen Brown kept Boston's hopes alive after countering with a big trey but time wasn't on their side and suffered back-to-back losses in three days.
Kristaps Porzingis led the Celtics in scoring after tallying 29 markers alongside six rebounds and three assists while Derrick White added 19 points.
Philadelphia will look to clinch its seventh straight victory as they face the Detroit Pistons on the road while the Celtics hope to bounce back against the Brooklyn Nets on November 11, 2023.