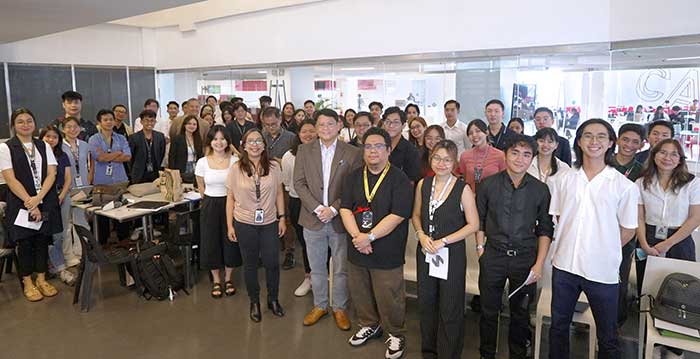 PHINMA Properties, a leading real estate developer dedicated to enhancing lives through sustainable communities, has launched an inspiring housing design competition together with De La Salle-College of Saint Benilde, School of Environment and Design (DLS-CSB-SED), empowering architecture students to unleash their creativity and develop innovative solutions for the evolving lifestyle of Filipino families.
The competition, a curricular collaboration with Benilde's Architecture program involving its Housing classes, challenged young visionaries to conceptualize and visualize constructible housing ideas that cater to the needs of middle-class families. The participants were tasked with creating schematic proposals for three housing typologies: 50-square-meter (sq.m.) lot townhouses, 80-sq.m. single attached homes, and 125- sq.m. single attached homes.
Under the guidance of educator Arch. Jojo Gutierrez, 84 students were divided into 21 teams, competing within the three distinct field categories. This dynamic approach aimed to widen the students' perspectives on various settings and conditions of Philippine shelter programs as part of their ARHOUSE (HOUSING) course.
Arch. Dottie Asela Domingo, Dean of DLS-CSB-SED, emphasized the learning opportunity for both parties that underpin this collaboration, saying, "The PHINMA – Benilde Housing Design Competition provides the opportunity for creativity and knowledge exchange. The industry players have the tested knowledge from professional practice. The students, on the other hand, have the unbridled creativity, as we allow their youthful energy, imaginations and passionate ideals to be explored to create new human-centered design solutions to existing environmental problems. With the meeting of minds, we learn from each other, and we dare to come up with new ideas and new design concepts."
"PHINMA Properties' mission revolves around reshaping the urban landscape, fostering community building, and embracing the Bayanihan spirit in all our designs," said Raphael B. Felix, President & CEO of PHINMA Properties. "We challenged participants in the competition to keep this vision in mind, aiming to create designs that renew the urban landscape, promote sustainability, and forge stronger bonds among communities. We have already adopted sustainability features in our projects and strive to EDGE-certify all of them. Moving forward, we aspire to embark on more projects, not only in house architecture but also in urban planning and energy efficiency. We believe there are countless aspects to explore and tap into the youth's ideas and support them into reality."
Teams will be shortlisted by a distinguished panel of experts and professionals from PHINMA Properties based on their compliance with class conditions, innovation, buildability, ecological and sustainability impact, and functional aesthetics during the initial submission round. The finalists will then undergo further scrutiny at PHINMA Plaza in Rockwell Center, Makati City, with a demonstration scheduled for August.
The esteemed panel will then deliberate and select three winning squads per housing typology. PHINMA Properties has pledged a substantial cash prize to recognize and reward the nine winners whose visionary ideas will be deemed as exemplifying the essence of innovation and sustainability.
"We embrace this collaboration with De La Salle College of St. Benilde and share the excitement over showcasing the genius of the youth in creating designs that renew our landscapes and build communities. Fresh eyes bring fresh ideas, and we expect to see some of the best architectural concepts that will potentially shape our future projects," said Felix.
He added, "The PHINMA Group is well invested in education, believing that educational institutions are the foundation of growth in this country. Working with the talents in these institutions open up innovations that align with the evolving market needs, especially as we see a younger generation of Filipino home buyers. We look forward to more meaningful partnerships not only in the design field but also in urban planning, energy efficiency, and other aspects that contribute to delivering exceptional projects that create deeper connections among families and neighbors."
PHINMA Properties is dedicated to enhancing lives by creating sustainable urban centers and providing ergonomic, environmentally-conscious homes. Upholding the Bayanihan Spirit, the company fosters a sense of community and strives to provide dignified living experiences for Filipinos. With a strong commitment to sustainable business strategies, PHINMA Properties is in the process of getting current and future projects nationwide the Excellence in Design for Greater Efficiencies (EDGE) Certification through its partnership with the International Finance Corporation (IFC).
The PHINMA – Benilde Housing Design Competition transcends traditional academic exercises; it is a pivotal platform to drive architectural housing design forward, ensuring it remains adaptive to the evolving needs of the Filipino people. By embracing sustainability and ecological consciousness, this collaborative endeavor aims to embody the principles of responsible development.
To learn more about PHINMA Properties and its sustainable living initiatives, please visit phinmaproperties.com.
For more information on the Benilde Architecture Program, interested individuals can visit www.benilde.edu.ph/undergraduate-architecture  or follow updates on the program's Facebook page at www.facebook.com/benildearchitecture.