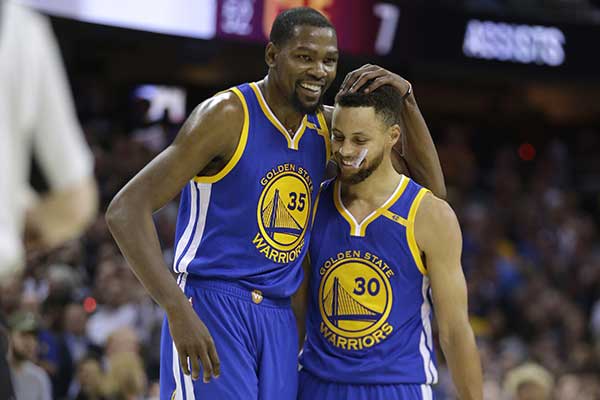 By Leobert Julian A. de la Peña
Scary hours for the world of basketball, the Team USA Avengers squad is coming.
Months after the USA national basketball team failed to win a medal in the FIBA World Cup hoops tournament, NBA superstars were already in the mix that will compose the lineup that will compete in the 2024 Paris Olympics.
During the NBA Media Day, Phoenix Suns' star small forward Kevin Durant and Golden State Warriors franchise player Stephen Curry already expressed their desire and commitment to play for USA Basketball as early as now.
When asked if he will be a part of the Olympic basketball team next year, Durant only said: "I will play in the Olympics next year."
Meanwhile, Curry also said the same thing and explained that it is the only thing that is still missing in his astonishing basketball career, winning an Olympic gold medal.
"If all things stay the same, I want to be playing. It's the one thing I haven't done and I also understand the opportunity for Team USA to kind of re-assert yourselves as the most dominant in the world," Curry said.
Durant is coming off an Olympic gold medal outing during the 2020 edition of the global sports games and is already a national team veteran since entering the USA Basketball program last 2012.
Joining the national team for the Olympics is a thing that Curry hasn't done despite winning multiple NBA championship titles. He represented USA on the FIBA global stage when he was still a rising star in the league and delivered two titles last 2010 and 2014.
Aside from them, Devin Booker, Damian Lillard, Kyrie Irving, and De'Aaron Fox also showed interest in joining the stacked Olympic team.
LeBron James, who is entering his 21st season in the NBA, also revealed that he is interested in playing for USA Basketball next year.
"I do have a lot of interest in playing for Paris. Got a lot of interest with playing for Team USA. We have a lot of good players here in America," James said.