ILAGAN, Isabela – From being one of the poorest municipalities in Isabela over a decade ago, this first-class City now boasts of a vibrant and fast-growing economy driven by major infrastructure projects financed by the Land Bank of the Philippines (LANDBANK).
Under the leadership of City Mayor Josemarie L. Diaz, the local government unit (LGU) of Ilagan and LANDBANK maintain a strong partnership geared towards the development of the City, with a total loan exposure amounting to P3.5 billion.
"Talagang malaki ang naitulong ng LANDBANK sa amin. Halos lahat ng improvement sa Ilagan City ay dahil sa aming pakikipagtulungan sa LANDBANK," said Mayor Diaz.
In support of Ilagan's development plan, LANDBANK financed the construction of four essential bridges in the City, including the Baculud Overflow Bridge in Brgy. Baculud and the Cabisera 8 Overflow Bridge in Brgy. Santa Maria.
These two overflow bridges significantly increased the mobility of Ilagueños, who previously used boats and bamboo rafts to travel across rivers to reach other parts of the City. The bridges also improved the access of residents from remote barangays to basic and support services, such as to their local hospital and public market.
LANDBANK likewise financed the concreting of road networks in Ilagan City to enhance the connectivity between its 91 barangays, which is already 90% completed as of end-January 2023.
Built with street lamps and concrete drainage, the concrete road network has made transportation safer and more efficient even in remote areas, especially for farmers who previously struggled to transport their agricultural produce to the market.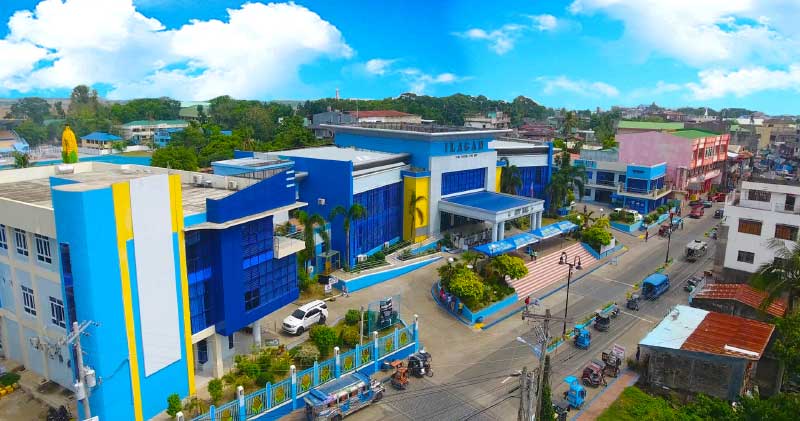 Facilities for healthcare, recreation, and public services
LANDBANK also supports the LGU's priority projects to provide better healthcare and public services.
At the height of the COVID-19 pandemic in 2021, the LANDBANK-financed City of Ilagan Medical Center (CIMC) was opened to initially serve as an isolation facility for COVID patients. From having a small infirmary, the enhanced 100-bed CIMC now provides advanced medical services, such as endoscopy, radiology, and hemodialysis.
The hospital has already received three International Standardization Organization (ISO) Certifications for Quality Management System, Environment Management System and Occupational Health and Management System.
For the safety and convenience of its constituents and local government employees, LANDBANK likewise financed the construction of the then Ilagan Municipal Hall (now a City Hall) and multi-purpose barangay halls in the City.
Other projects of the LGU backed by the Bank include a sanitary landfill for sustainable waste disposal; a new public market that serves as a central hub for vendors; and daycare centers for children.
The Ilagan LGU also partnered with the Bank to finance the construction of recreational facilities in the City, including the new Ilagan Sports Complex, a local mall and hotel, as well as a multi-purpose commercial building, all of which generate significant revenue for the LGU.
P900 million of the LGU's total loan will finance lot acquisition in the barangays of Alibagu, Marana 1st and Lullutan for various development projects, including the construction of 94 housing units in Alibagu. The loan will also be utilized for the expansion of the Ilagan City Hotel and Convention Center, as well as the establishment of CIMC's Contagious Disease Building.
This will also fund the construction of a public market building in Brgy. Hacienda San Antonio and a bagsakan center with cold storage for agricultural products in Brgy. Marana 1st.
"Simula nung kami ay isang municipality pa lamang, nagtiwala na ang LANDBANK sa amin. Kasama namin ang LANDBANK na lumaki at lumago, at ngayon, we can already provide complete and quality services for the welfare of our people. Kaya malaki ang aming pasasalamat sa LANDBANK," Mayor Diaz added.
With the help of LANDBANK, the LGU's assets grew from P700 million in 2007 to P7 billion in 2022.
LANDBANK remains the biggest development partner of LGUs, in fulfilment of the Bank's mandate to spur countryside development in stride with nation-building.
As of end-2022, the Bank's outstanding loans to LGUs nationwide have reached P91.5 billion in support of local development projects, which include agri-related infrastructure, hospitals, schools, and utilities.