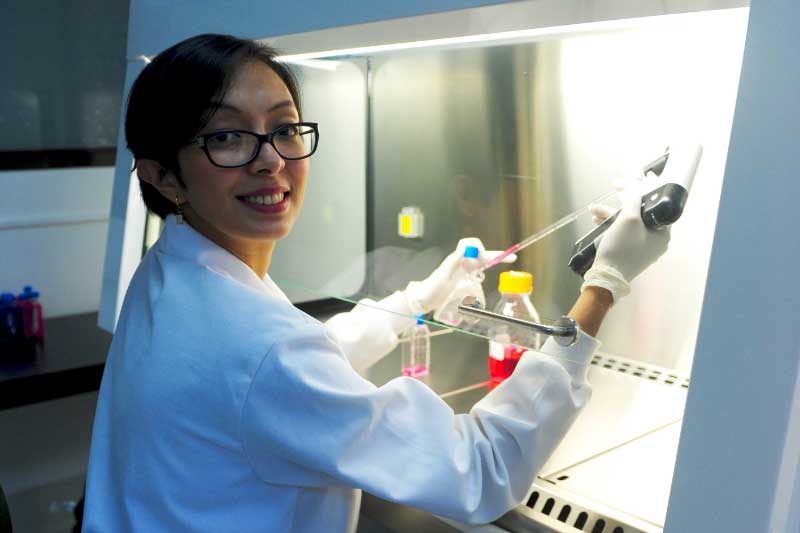 From the front lines of the COVID-19 pandemic to the forefront of ocean research, Filipina scientists from the University of the Philippines – Diliman College of Science (UPD-CS) are leading the country and the world in life sciences.
Two of the 11 winners of The Outstanding Women in the Nation's Service (TOWNS) 2022 are both experts in life sciences from the UPD-CS. As Director of the National Institute of Molecular Biology and Biotechnology (NIMBB), Dr. Pia D. Bagamasbad has been a key player in the country's pandemic response, while the Marine Science Institute's (MSI's) Dr. Aletta T. Yñiguez has continually been helping to improve the lives of fisherfolk and uplift the country's fisheries sector through her work in marine ecology.
Spearheading Philippine COVID-19 response
With her years of extensive experience in using RT-PCR for various biomedical applications and assays, Dr. Bagamasbad quickly rose to prominence during the COVID-19 pandemic. Early on, she was able to train over a hundred medical technologists from dozens of testing laboratories and hospitals across the country in the use of RT-PCR testing. She is also deeply involved in research towards better understanding the molecular basis of hormone action and hormone-dependent cancers. As a researcher, she continually advocates government support for STEM practitioners, especially women scientists.
"My vision is for our country to get to a point where we have eliminated most, if not all, barriers to scientific progress, and prioritized the development of STEM professionals to give them enough motivation to stay," Dr. Bagamasbad says.
ARAICoBeH, HABHub help empower fisherfolk
Meanwhile, Dr. Yñiguez is a well-known advocate of sustainable fishing practices and a staunch defender of marine ecology and biodiversity. Her marine research is focused on developing technologies and practices that can help oversee and protect coastal ecosystems, including an early-warning system for harmful algal blooms called HABHub. She and her team also developed a coastal monitoring system, officially called "A Rapid Assessment Instrument for Coastal Benthic Habitats"—but affectionately referred to by its tongue-in-cheek acronym, ARAICoBeH—that provides a low-cost way to take underwater photos of endangered areas such as coral reefs. Ultimately, Dr. Yñiguez is working towards forging close partnerships between coastal communities and public and private entities so that the science can be mainstreamed.
"It's understandable that we want to have more and better production for a growing population and for economic growth, but the science and technologies to ensure sustainability and thus the health of the ecosystems for marine resources should also go hand-in-hand with these," Dr. Yñiguez explains.
Inspiring future Filipina scientists
As professors at the UP Diliman College of Science, Drs. Bagamasbad and Yñiguez both continually inspire young students to become the country's next generation of scientists. Their TOWNS win is a testament to the country and to the world of what Filipinas can aspire to and achieve.
Since 1974, the TOWNS Awards have been bestowed on outstanding Filipino women between the ages 21 to 50 years old who have contributed invaluably to the country's economic, social, and cultural development, as well as to national security and unity. The Awards are given every three years by the TOWNS Foundation, a non-profit organization whose members are committed to using their experience, skills, and resources to improve quality of life and to serve as catalysts for national development.
In celebration of UPD's Science, Technology, and Society (STS) Month, Dr. Bagamasbad and Dr. Yñiguez will be speaking at the online event, "A Woman's Place is Everywhere: A forum on the multidisciplinary works of UPD-CS' TOWNS 2022 Awardees." Free and open to the public, the forum is hosted by the UPD College of Science and is scheduled for October 20, 2022 at 2:30-4pm. Those who are interested to attend may register via https://bit.ly/STSMonth.
For interview requests and additional information, visit https://fb.com/UPDScience or email media@science.upd.edu.ph