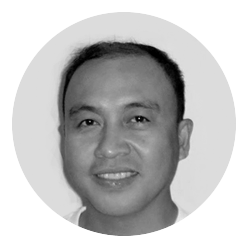 By Alex P. Vidal
"The only thing worse than a liar is a liar that's also a hypocrite!"
—Tennessee Williams
A SMALL group of Filipino-Americans in our community in Queens, NYC still can't accept that Joseph Biden is the new U.S. President.
And they can't hide their hypocrisy when it comes to salivating for their share of the $1,400 stimulus check per American as contained in the $1.9 trillion stimulus package Mr. Biden signed into law on March 11 afternoon.
"Nadeposit na ba ang stimulus natin? Paki verify nga kung available na (Kindly verify if our stimulus money has already been deposited and if it's already available)," Grego, 65, a hard-line Republican supporter and loyalist of former President Donald Trump, requested his pal, Deo, 63, in their recent tete-a-tete.
A day earlier (March 12), their fellow Republican supporter, Roman, 70, informed them in jest: "Hindi pala napirmahan ni Biden and stimulus (Biden failed to sign the stimulus)."
"Bakit? Ano daw ang nangyari? (Why? What happened?)" asked Deo.
"Eh paano fake pala na Biden ang nasa White House. Ang nakikita natin sa TV ay isang impostor na Biden. Si Trump ang pipirma sa stimulus bill para maging law (The Biden who is in the White House is a fake one. What we see on the television is an impostor. It will be Trump who will sign the stimulus bill into law)," added Roman.
-o0o-
Grego had criticized the $1.9 trillion coronavirus relief package for being "too much" and "a burden to us the taxpayers."
"Puro pasikat ang ginagawa ni Biden at ang mga walang hiya na mga democrats na yan (What Biden and the shameless democrats are doing is to grandstand)," raged Grego, who initially showed signs he wasn't interested in getting his share of the $1,400 direct payment stimulus check for individuals who earn $75,000 or below, a head of household earning $112,500 or less, and married couples making $150,000 or below.
Those with kids will also get up to $1,400 for each child.
Grego changed his mind when he asked Deo to check if the stimulus money was already deposited.
"Hindi ako interesado sa stimulus na yan. Kawawa ang mga bata sa next generation. Sila ang magbabayad ng utang na yan (I am not interested in that stimulus money. It will be the children in the next generation who will pay for that debt)," Mang Pepeng, 85, a former gun runner in Nueva Ecija before the Martial Law, vowed.
"Kapag nakuha na natin ang pera balik tayo ulit dita ha (If we are able get the money, let's meet again here)," Deo suggested.
Roman retorted: "Baka sa Martes darating na yan (It might be available on Tuesday)."
With his signature, President Biden checked off his first priority in the White House.
He also gave a prime-time address March 11 describing how the country will proceed in fighting the virus a year after the World Health Organization (WHO) declared it a pandemic.
The plan sent direct payments of up to $1,400 to most Americans. Direct deposits will start hitting Americans' bank accounts as soon as this weekend, White House press secretary Jen Psaki announced March 11.
-o0o-
The bill extended a $300 per week unemployment insurance boost until Sept. 6 and expanded the child tax credit for a year.
It will also put nearly $20 billion into Covid-19 vaccinations, $25 billion into rental and utility assistance, and $350 billion into the state, local and tribal relief.
"This historic legislation is about rebuilding the backbone of this country," Mr. Biden said before signing the legislation. "And giving people in this nation, working people, middle-class folks, the people who built this country, a fighting chance."
Democrats passed the bill in Congress without a Republican vote through the budget reconciliation process. The House approved the measure Wednesday.
Republicans called the proposal "unfit for the moment" as Covid-19 vaccinations pick up and more states move toward reopening their economies. The GOP criticized what it called "funding not needed to fight the pandemic."
(The author, who is now based in New York City, used to be the editor of two dailies in Iloilo)