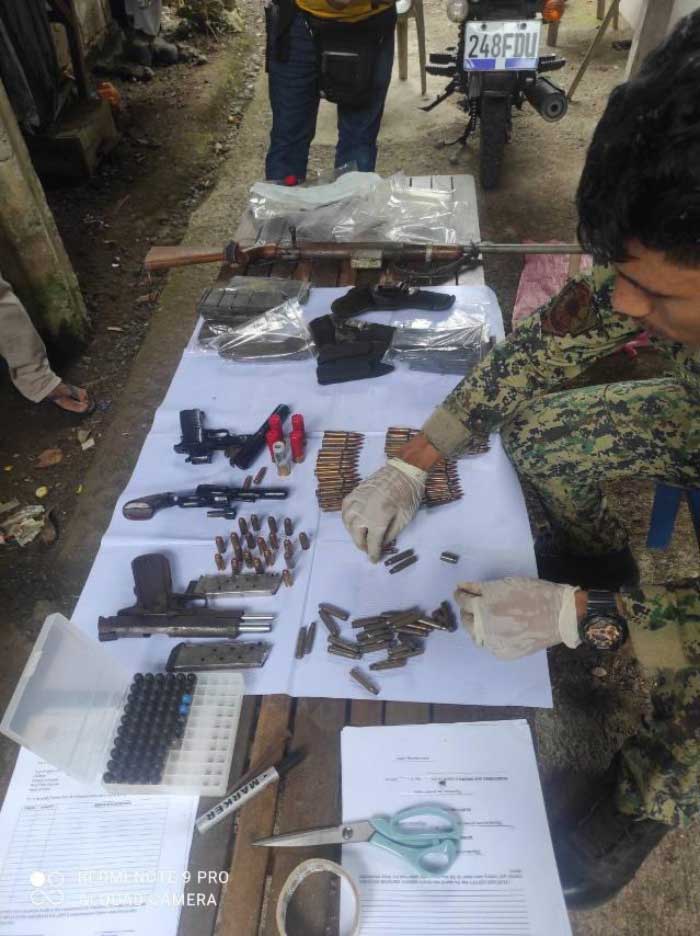 By Jennifer P. Rendon
Complaints from neighbors led police to raid the house of a retired soldier morning of July 14, 2023, in Bingawan, Iloilo.
Police identified the subject as Regino Ligaray, a resident of Sitio Dalusan, Barangay Quinar-upan, Bingawan.
Members of the Bingawan Municipal Police Station, the 2nd Iloilo Provincial Mobile Force Company (IPMFC), and the 62 SAC-PNP SAF implemented Search Warrant No. 23-22 against Ligaray.
Executive Judge Gemalyn Faunillo-Tarol of the Regional Trial Court Branch 76 in Janiuay, Iloilo issued the warrant on July 5, 2023.
Police seized from Ligaray's house a 12-gauge short-barreled shotgun without ammunition, a caliber .22 revolver loaded with 2 ammunitions, another 12-gauge shotgun, and a caliber .45 pistol.
Operatives also recovered several magazines for caliber .45 pistol, caliber .9mm pistol, and M16 Armalite rifle.
Police also found various ammunition and shells for caliber .45, 12-gauge shotgun, caliber .38, M14 Armalite, and M16 Armalite.
They also took two holsters and a magazine pouch of caliber for a .45 pistol.
Lieutenant Ryan Christ Inot, Bingawan police chief, said they searched Ligaray's house after two complaints accused him of gun poking.
"There were also complaints made in their barangay that he acted unruly and was brandishing his gun whenever he was under the influence of liquor. Marami siyang kalaban sa barangay nila," he said.
It was gathered that Ligaray retired from the service several years ago.
The Bingawan PNP immediately asked for a certification from the PNP Firearms and Explosives Office (FEO) stating that the retired soldier had not been issued a License to Own and Posses Firearm (LTOPF).
Ligaray is now detained and will be charged for violation of Republic Act 10591 (Comprehensive Firearms and Ammunition Regulation Act).