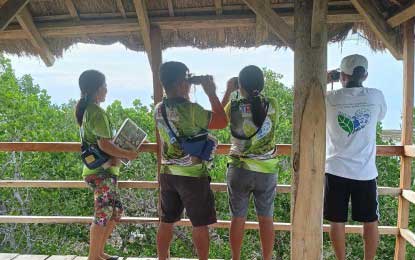 BACOLOD City – The globally-recognized Suyac Island Mangrove Eco-Park in Sagay City, Negros Occidental has obtained funding assistance of almost PHP1.5 million from the Berkeley, California-based non-profit organization Seacology to improve its facilities.
Through the grant for its repair and rehabilitation, the northern Negros city's premier eco-tourism site, just a 10- to 15-minute boat ride from the mainland, reopened its spa and watch tower after these were damaged due to lack of maintenance during the coronavirus disease 2019 (Covid-19) pandemic.
"We thank Seacology for this generous fund grant as this will help the community in their continued recovery after the pandemic," Mayor Narciso Javelosa Jr. said in a statement on Monday.
Vice Mayor Leo Rafael Cueva, who had personally assisted the Suyac Eco Tourism Attendant Association (SIETAAS) in the repair of the cottages, enjoined the residents to continue to be vanguards of the mangrove island and offer excellent ecotourism services.
After the cottages were restored, the eco-park again opened its doors to tourists in January this year.
On Aug. 10, Seacology country representative Ferdie Marcelo conducted a site visit during the reopening of the spa and watch tower.
Marcelo said as the community plays a huge part in biodiversity conservation, grassroots initiatives should be strengthened for the continued protection of Suyac Island's ecosystem and wildlife.
He received a copy of the resolution passed by the City Council "expressing heartfelt appreciation and gratitude to Seacology for the grant."
Taba-ao village chief Ed Joy Vasquez signed the commitment agreement for the community to permanently protect and restore the inland forest and mangrove ecosystems of Suyac Island.
SIETAAS, led by president Melanie Mermida, manages the mangrove eco-park through the city government's pro-environment and pro-community sustainable tourism development program.
The association protects the mangrove ecosystem, spanning at least 15.6 hectares, using science-based approaches.
"It is our commitment to sustain the conservation of these God-given resources. The mangrove forest that has protected us from the strongest storms and has given us the bounty from the sea," Mermida said.
The Suyac Island Mangrove Eco-Park has been recognized by Tourism Promotions Board as a good practice for sustainable tourism development and is a Pearl Awards recipient for "Best Practices on Community-based Responsible Tourism Category".
Its story, the "Mangrove Forest Protection through Community-based EcoTourism Project," won second place in the Nature and Scenery Category, and received the People's Choice Award during the Green Destinations Story Awards at the Internationale Tourismus-Börse in Berlin, Germany in March this year.
It was also included in the world's Top 100 "Green Destinations" list for 2022, a recognition given by the Green Destinations Foundation based in The Netherlands. (PNA)