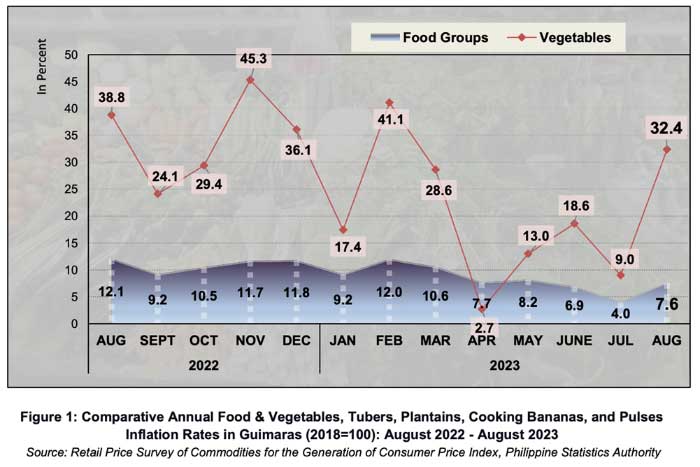 The annual food inflation in the province of Guimaras accelerated to 7.6 percent in August 2023 from 4 percent in July.
The increase is due to price hikes in vegetables, tubers, plantains, cooking bananas, and pulses at 32.4 percent from 9 percent, based on the latest price statistics released by the Philippine Statistics Authority (PSA).
"Data showed that prices of vegetables, tubers, plantains, cooking bananas, and pulses fluctuated since August 2022. The rate of change in the said food items began declining in September 2022 by 24.1 percent, then continuously moving up until it peaked in November 2022 at 45.3 percent. Thereafter, a decrease was noted until January 2023 at 17.4 percent, before it rose again in February at 41.1 percent," Provincial Statistics Officer Nelida B. Losare said.
"The price index of the vegetable items dropped again, hitting a low of 2.7 percent in April. It climbed to 13.0 percent in May and floated to 18.6 percent in June. From then, the price index for vegetables decreased to 9.0 percent in July 2023, then sharply rose to 32.4 percent in August 2023," Losare added.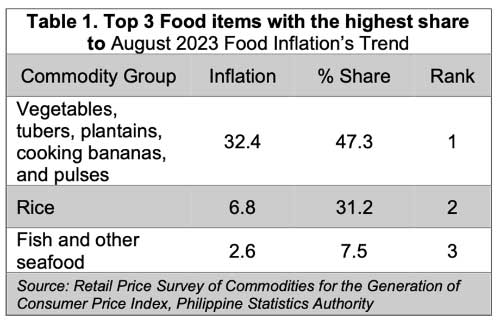 Losare explained that Vegetables, tubers, plantains, cooking bananas, and pulses shared 47.3 percent of the 7.6 percent food inflation in August 2023.
Rice hit the 6.8 percent inflation and shared 31.2 percent of the total food inflation, while fish and other seafood commodity groups also showed a significant share of 7.5 percent to the overall food inflation.
The other food commodities that contributed to faster food inflation in August 2023 included price indices for Ready-made food and other food products n.e.c. (14.4%); Milk, other dairy products, and eggs (12.0%); Meat and other slaughtered land animals (-2.0%); Fruits and nuts (5.8%); and Flour, bread, and other bakery products, pasta products, and other cereals (6.3%).
"Almost all food items showed an increased inflation rate than the previous month's level except for three food items; these include Corn, Oils and fats, and Sugar, confectionery, and desserts with 6.4%, 14.3%, and 10.0% indices, respectively," Losare said. 
Losare also implied that until August 2023, the rate of change in food inflation had not been higher than its level in August 2022 with 12.1 percent.
"Food inflation began with a sluggish decline in September 2022 at 9.2 percent and then steadily rose in the following months, reaching 11.8 percent in December 2022. In 2023, food inflation in Guimaras started slowly, at 9.2 percent, and peaked at 12.0 percent in February," Losare said.
"Following that, the province's food inflation rate fell until April, then slightly increased to 8.2 percent in May, dipped to 6.9 percent in June, and finally fell to 4.0 percent in July 2023. The food price index then had a float in August 2023, rising by 7.6 percent, the fastest price movement in the past 13 months,."