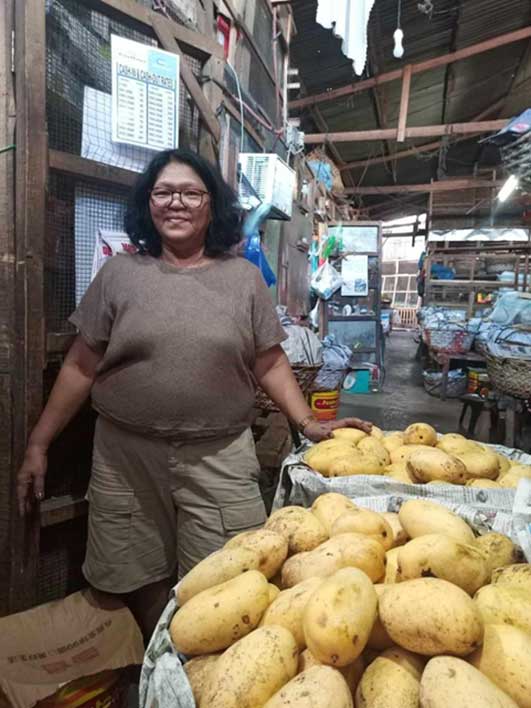 Davao City, known as the "Fruit Basket of the Philippines," is one of the top growers and exporters of various tropical fruits worldwide. Among its locally grown fruits are durian, mangosteen, banana, and mango. Hence, local fruit growers and sellers have had good success with this endeavor.
Microentrepreneur and CARD client Crisfina Berdos also tried her hand at a fruit-selling venture. She chose mangoes since they are considered a high-value crop. Her relatives also have connections to mango farm owners, so it will be easy for her to find suppliers.
Currently, the business is being run by Crisfina with the help of her family. With collective efforts, dedication, and passion, she said they can distribute as much as 5,000 kilograms per day, which is equivalent to two or three large trucks, or about PhP500,000 to PhP700,000 worth, when all the mangoes are distributed and sold to their wholesalers, retailers, and market traders.
"Our business path is a one-family success journey. Whatever comes our way, we will face and overcome it with trust in one another, drive, passion, and faith in God," Crisfina said in an interview.
Crisfina and her family may now be reaping the fruits of success after venturing into the wholesale and retail industries, but she could vividly remember how difficult life was back then.
How It Started
Crisfina is a single mother.
She used to work hard to make a living for her family by selling tuna on a regular basis. Unfortunately, she decided to stop after years of running her small tuna business when she became ill. Yet she said she was grateful for the experience, as she had learned the value of sound financial management and budgeting.
With the support of her siblings, Crisfina survived her biggest challenge as she lost her source of income. Her siblings, who are into the mango fruit wholesale and retail business, taught her the ways of the business.
She rented a space at Bankerohan Market in Bankerohan, Davao City, for storage of their bulk supplies, which are usually sold at a wholesale price of PhP100 per kilogram and a retail price of PhP110–120 per kilogram.
Support from CARD MRI
It was in 2017 when Crisfina learned about CARD MRI's products and services, especially the CARD loans offered to help families start up a small business. Crisfina qualified for a specific loan amount, which she used as capital for her mango fruit business.
According to her, every time she needs additional funds, CARD Bank, Inc., has been her support and partner in achieving higher business goals. Currently, she has renewed her loan amounting to PhP150,000.
Fruits of Success
Crisfina proudly shared that through their mango fruit business, she now has an information technology graduate who is now helping her out in the business as well. She said that her children grew up watching and assisting her with their business; thus, they learned skills and gained knowledge on how to run the said business.
Meanwhile, Crisfina also mentioned that their business had expanded.
Aside from the Bankerohan market, they now supply their produce to known malls and supermarkets. They also supply and distribute mangoes to their partners, who are based in Metro Manila, Cebu City, Island Garden City of Samal, Butuan City, Surigao City, Digos City, Panabo City, and Tagum City.
Over the past years, their business has remained stable in terms of supplies, manpower, sales, income, and having a strong customer and partner relationship.
In the coming years, Crisfina aims to acquire farmlands to boost business production, broaden the market reach, make additional investments, hire more people in the community, and provide them with jobs and sources of income.
"To other people out there, know that hardship is a vital part of success. Just continue to strive, and one day you'll be reaping the fruits of your hard work, and success will be as sweet as mango," she said.