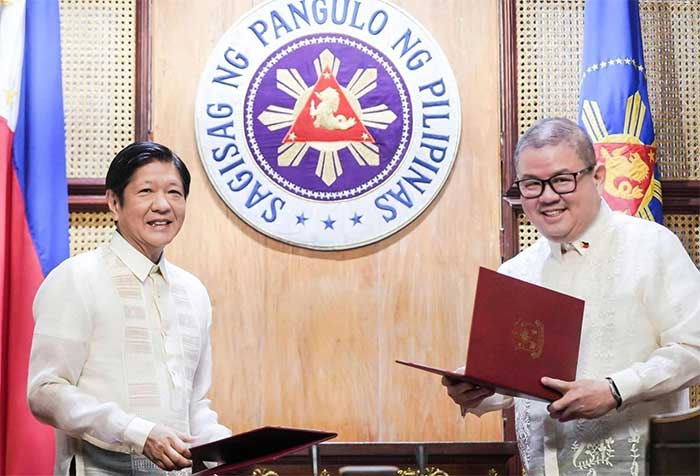 By Dolly Yasa
Bacolod City – Sugar industry leaders expressed their pleasure with the newly-appointed Secretary of Agriculture by President Ferdinand Marcos Jr.
President Marcos, who was then acting as DA Secretary, appointed fishing tycoon Francisco Tiu Laurel Jr. to head the agency.
In a statement sent to the local media, Sugar Regulatory Administrator Pablo Azcona said "We, in the SRA, are happy to welcome our newly appointed Agriculture Secretary Francisco Laurel, Jr."
"Rest assured that SRA will be supportive of the DA's programs as it has in the past, and we are looking forward to strengthen this partnership with the DA," he further said.
On the other hand, the Sugar Council composed of the National Federation of Sugarcane Planters (NFSP), Confederation of Sugar Producers Association (CONFED), and Panay Federation of Sugarcane Farmers, Inc. (PANAYFED), also congratulated Laurel for his appointment as the new DA secretary.
In a separate statement, the Sugar Council said "We commit to you our full cooperation as you begin the challenging but rewarding job of managing the country's agricultural assets in general, and the sugar industry in particular. To this end, we look forward to meeting you."
NFSP is headed by Enrique Rojas, while CONFED and PANAYFED, are respectively led by Aurelio Gerardo Valderrama, Jr. and Danilo Abelita.
Unifed President, Manuel Lamata said, "we warmly welcome the appointment of Francisco Laurel Jr. as the new Agriculture Secretary."
He further said, "we are looking forward to work with him and present to him the state of the sugar industry and how the department can extend its assistance and resources to our industry, particularly now that we are in the thick of our milling season."
Laurel owns Frabelle Fishing Corporation, a deep sea fishing company supplying fresh, frozen, and processed seafood products to domestic and international markets.
Laurel was part of the Private Sector Advisory Council's agriculture group helping the government address food security issues before his appointment as DA chief.