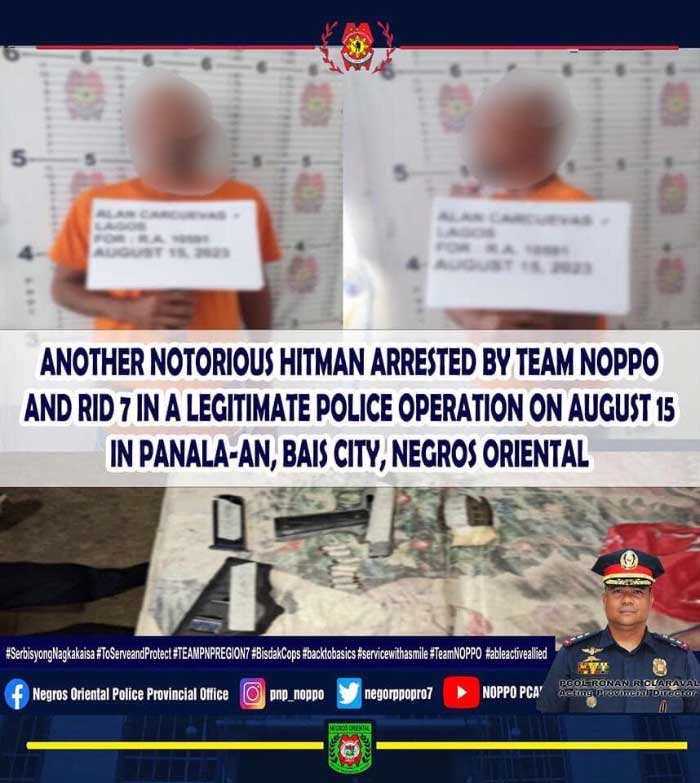 By Glazyl Y. Masculino
BACOLOD City – An alleged hitman tagged in past shooting incidents in Negros Oriental, was arrested in a police raid in Barangay Panala-an, Bais City last Tuesday.
According to a report from Police Regional Office (PRO)-7, the suspect was identified as Allan Lagos Carcuevas.
Based on the information of the Regional Intelligence Division in Central Visayas, the suspect had previous records for violations of Republic Act (RA) 10591 or the Comprehensive Firearms and Ammunition Regulation Act, and RA 9516 or the "Unlawful Manufacture, Sales, Acquisition, Disposition, Importation or Possession of an Explosive or Incendiary Device."
Carcuevas was also tagged in the assassination attempt of a politician in the province, and was suspected to be involved in the past shooting incidents in the towns of Mabinay and Bais, and other parts of 1st and 2nd districts of the province, according to PRO-7.
He was also identified as the contact person who allegedly hires local hitmen utilized to sow fear during past elections, the PRO-7 reported.
Police confiscated from the suspect a hand grenade, a .45 caliber pistol with a magazine, and seven live ammunition.
In a statement, Police Brigadier General Anthony Aberin, PRO-7 director, said the arrest of Carcuevas is part of PRO-7's continuing manhunt operations against all criminals responsible for the past lawlessness in the province.
"The time for reckoning has come and we will not stop until all responsible will be accounted for their crimes," he added.
Aberin lauded the collective efforts of the police operatives for the suspect's apprehension.
On July 31, Alex Manegos Mayagma, also an alleged hitman in the province, and top 1 most wanted person in Central Visayas, was killed after he allegedly resisted arrest by authorities in Barangay Malabugas, Bayawan City.