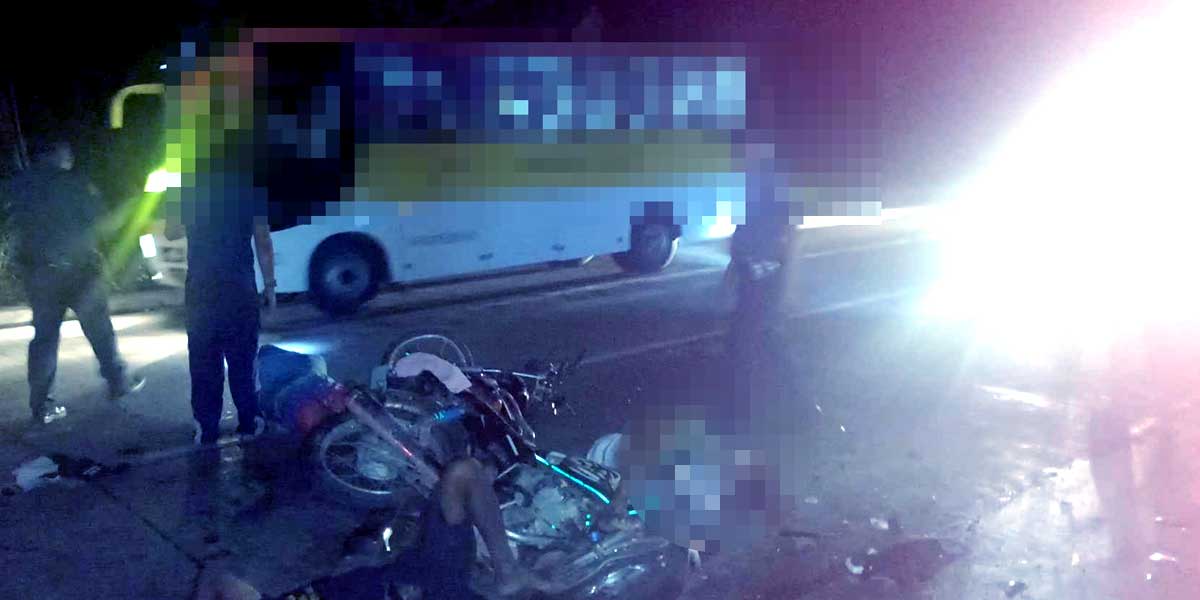 By Jennifer P. Rendon
Two back riders died in separate vehicular incidents evening of August 15 in Iloilo province.
The fatalities were identified as Winnie Cabatingan, 39, of Poblacion A, Dueñas town and Danilo Sotela, 24, of Barangay Nabitasan, Leganes, Iloilo.
Cabatingan died after the motorcycle he was riding collided with another motorcycle at 7:50 p.m. Tuesday at Barangay Capuling, Dueñas.
Cabatingan was on a motorcycle driven by Ramil Lacsina, resident of Barangay Minanga, Dueñas, when it collided with another motorcycle driven by Diosdado Peñolbo, 30, of Barangay Iwa Ilaya, Pototan, Iloilo.
Captain Jesus Batilante Jr., Dueñas police chief, said it was believed that Peñolbo encroached the opposite lane on which Lacsina was running.
The twin drivers and Cabatingan were all thrown off the bikes. The three were reportedly not wearing crash helmets.
They were all rushed to Don Valerio F. Palmares Memorial District Hospital in Passi City.
Peñolbo was later referred to the Iloilo Provincial Hospital in Passi City and then released. He is under house arrest in the meantime.
Cabatingan, on the other hand, was referred to Western Visayas Medical Center in Iloilo City but died around 5 a.m. Wednesday.
Meanwhile, Sotela died after he fell from a tricycle driven by his friend, Marbin Agrabio, 24, of Barangay Bantayan, San Enrique.
They were with a 12-year-old boy, who was seated in the sidecar's front seat when the incident happened.
Agrabio said he did not notice that Sotela fell from his vehicle while they were passing through Barangay Tambunac, San Enrique around 9 p.m.
A motorcycle traversing the opposite lane hit Sotela in the face.
Captain Airel Dawn Parcon, San Enrique police chief, said the victim died on the spot.
The tricycle driver theorized that the victim may have dozed off causing him to fall from the vehicle.