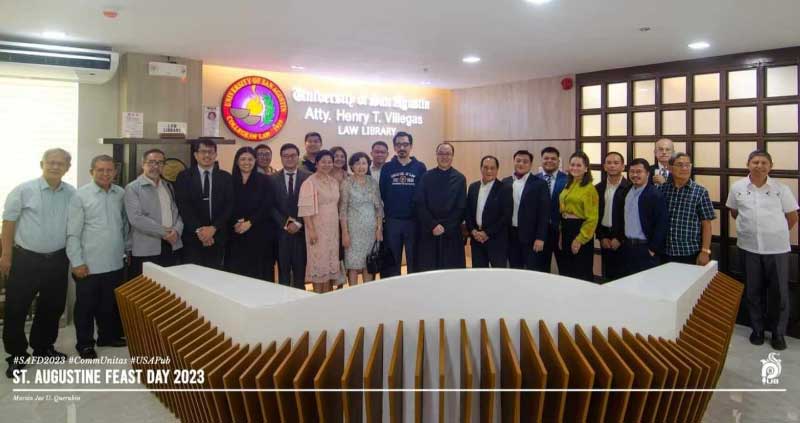 By Joseph Marzan
The University of San Agustin (USA) unveiled the new Atty. Henry T. Villegas Law Library on August 30, offering itself to be a better learning space for future and current Augustinian lawyers with its existing and new features.
The inauguration was led by USA President Fr. Frederick C. Comendador, Vice President for Academic Affairs Dr. Regina Aileen May Vergara, Learning Resource Center Director Rhea L. Espina, College of Law Dean Atty. Jose Mari Benjamin Francisco U. Tirol.
It was also graced by other USA university officials, faculty from the College of Law and other academic units, alumni, students, and Atty. Henry T. Villegas himself and his family.
The newly-renovated library still has all of the books that students need, know, and love, as well as some new acquisitions of titles essential to their study within and outside of the scope of legal academics.
New features include a computer room with new iMac desktop computers, two discussion rooms where students can freely discuss their topics for their classes in a closed space, and a coffee corner where students and faculty can take a break to enjoy their centuries-old favorite potion.
There is likewise a shelf with trophies of the college from their academic and extra-curricular competitions, as a reminder of the college's continued tradition of excellence in the legal profession and beyond.
Also opened for the first time was the Fray Luis de Leon Learning Commons, which the library complements and is also accessible to students.
Renovation and renaming of the library was financed in part via the donation of the Villegas family, spearheaded by his son, Atty. Jan Freeman C. Villegas, who signed a memorandum with the university last year, on May 21, 2022.
The younger Villegas said that the donation was meant to inspire less fortunate students to push with their pursuits of becoming good lawyers.
"My father came from a humble beginning, so of course aside from giving him the honor, we want to inspire other people. He may not be well-known, but he has humility, a down-to-earth human being, and he doesn't forget where he came from. He strived hard to study law, and ultimately, he succeeded in his endeavor, in his life. The main purpose is really to help other aspiring law students," said Atty. Jan Freeman Villegas.
Fr. Comendador narrated how the Villegas family's donation came about to improve the law library.
"While looking for money to finance this project, all of a sudden, Atty. Jan Freeman [Villegas], and I don't know him at all, through an emissary, came to my office and said, 'Father, there's someone who wants to donate the law library.' Of course, we needed money, who would say no? Then I decided entertaining, and at least a year ago, we came here to this building to have a signing and agreement that Atty. Freeman would be donating a certain amount of money, but in exchange, we would name the library after his father," the University President said.
Espina, who was once the College of Law's dedicated librarian, said that the reopened library is in line with the university's objectives of delivering high-quality education, guaranteeing sufficient facilities and resources, and offering comprehensive support for students throughout their academic journey.
Atty. Tirol said the library was in line with the college's goal, saying, "It is not just to produce lawyers, but Augustinian lawyers."
The Dean also cited the bare wall at the entrance of the library, which he hoped would be filled with the college's older books that date back to the Spanish period and were not available even to the Supreme Court.