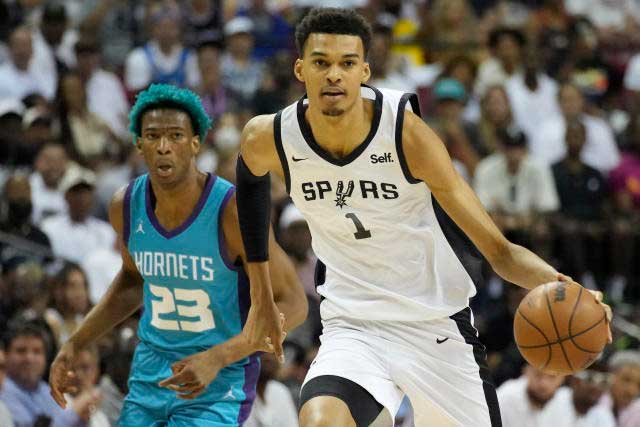 By Leobert Julian A. de la Peña
The San Antonio Spurs fan base might not get their expected dominant debut game from no.1 lottery pick Victor Wembanyama but he sure did leave a ton of exciting things that might help the franchise return to its glory days in the NBA.
Wembanyama only scored nine points during his first game in the Summer League and only drained two of his 13 total attempts from the field.
Despite the poor shooting performance, the lengthy rare hoops specimen made it up on the defensive end, swatting away five shot attempts from the Charlotte Hornets scorers while also grabbing eight rebounds.
There was a lot to talk about during that game. Wembanyama was obviously struggling at the pace of the NBA and was getting stripped down low every time he attempted to attack the paint with his dribble moves.
Aside from those struggles, the young superstar from France also had difficulty banging bodies with the Charlotte frontcourt and was locked up several times by no. 2 pick Brandon Miller.
During his interviews after their 76-68 victory over the Hornets, Wembanyama admitted that he could've done better during his debut game and explained several factors which led to his sub-par performance.
Despite all the negative criticisms he received, it was also obvious that he impacted the game in several ways which wasn't really talked about after his debut performance.
Wembanyama displayed an underrated court vision against the Hornets and was throwing crazy no-look dimes to his teammates.
In addition, Wembanyama also showed off his tremendous ball handling at his size and used it several times to evade incoming defenders during the fast break.
He might get stripped several times in traffic but Wembanyama was unfazed getting past smaller opponents with his shifty dribble moves.
Lastly, Wembanyama had a very fluid footwork against Charlotte, one thing he started to develop when he played in Europe.
The first French player to be drafted first overall in the NBA might be in hot water for now due to all the pressure and hype, but man, this kid is a rare talent.