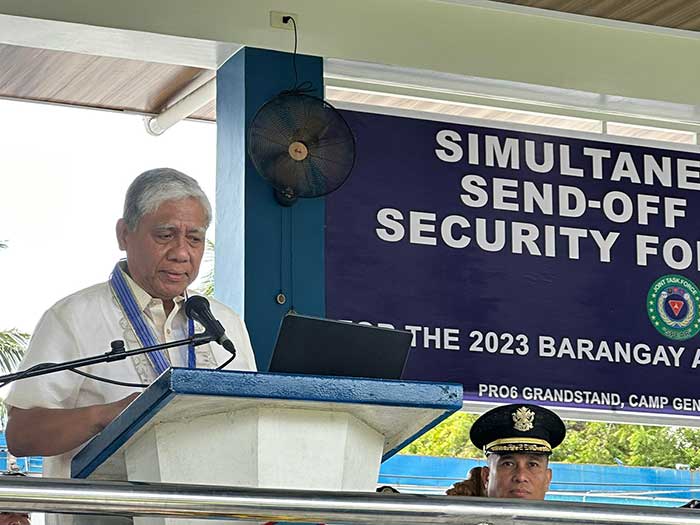 By Jennifer P. Rendon
The Commission on Elections (Comelec)-Region 6 has not recorded any election-related violent incident (ERVI) a week before the Barangay and Sangguniang Kabataan elections (BSKE) 2023.
Atty. Dennis Ausan, Comelec-6 regional director, said that the Regional Security Control Center (RJSCC) has not received any report that could be considered as ERVI.
The BSKE-2018 was also "incident-less." The only time ERVIs were recorded was during the national elections in 2016 and 2019.
In the 2016 national and presidential elections, two incidents led to the deaths of two supporters of political candidates from the towns of Balasan and Calinog in Iloilo.
The following national polls in 2019, three ERVIs were reported.
The incident killed two Sangguniang Bayan members from Moises Padilla and Escalante City, all in Negros Occidental.
Meanwhile, Ausan said the election areas of concern (EACs) remain at 172 after it was reviewed and reevaluated by the RJSCC.
Out of the watch listed 172 barangays, six are in "Yellow" category (election areas of concern), 163 in "Orange" category (election areas of immediate concern) and 3 in "Red" category (election areas of grave concern).
Iloilo, to include Iloilo City, has the most number of election areas of concern at 93 while Negros Occidental, to include Bacolod City has 51; Capiz with 14; Antique with 12; and Aklan with two.
Guimaras has not recorded any election area of concern.
There are 3,879 barangays in Western Visayas that are considered without any election concern.