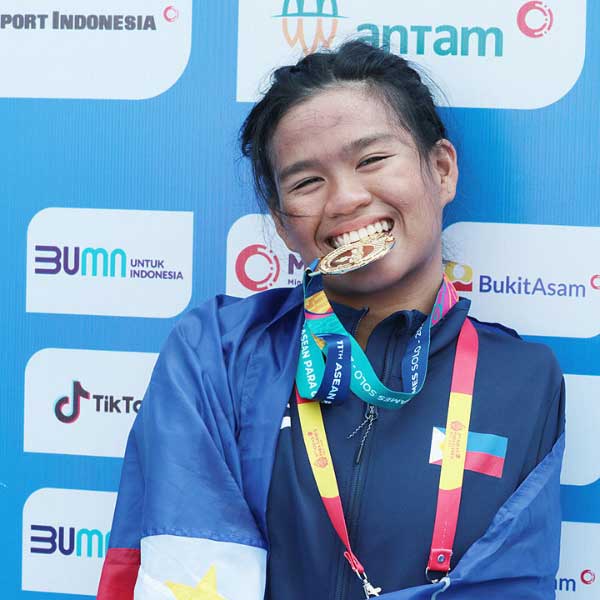 By Leobert Julian A. de la Peña
After a terrific start in the ongoing 2023 ASEAN Para Games held in Cambodia, the Philippine delegation stepped on the gas pedal and collected nine more gold medals in the June 7, 2023 schedule of the international sporting event.
The PHL national chess team led the way with four won golds while the prized swimmers added three more capped off by two gold medals won by the Athletics team.
Darry Bernardo kicked off team PHL's Wednesday campaign with back-to-back gold medals in the men's chess event.
Bernardo topped the men's individual standard chess VI-B2/B3 category and the men's team standard chess VI-B2/B3.
Joining Bernardo in the men's team standard chess VI-B2/B3 event are Arman Subaste and Menandro Redor.
Meanwhile, in the women's chess division, Cheyzer Mendoza once again brought home the bacon for the national team after dominating the individual standard chess PI and the women's team standard chess PI.
Mendoza had plenty of help in the women's team standard chess PI after the duo of Cheryl Angot and Fe Mangayayam also played their hearts out to capture another podium finish.
After the showcase of the PHL chess squad, the swimming team also ended the Wednesday schedule with a bang courtesy of Angel Otom and Ernie Gawilan.
Otom showed the way for the Filipinas after collecting back-to-back golds after winning the women's 50m freestyle and butterfly categories.
Gawilan then continued team PHL's hot streak and clinched swimming's last gold medal after ruling the men's 200m individual medley SM7 category.
Completing the list of gold medalists in the Wednesday gold medal haul are Athletics members Jerrold Mangliwan and Evaristo Carbonel.