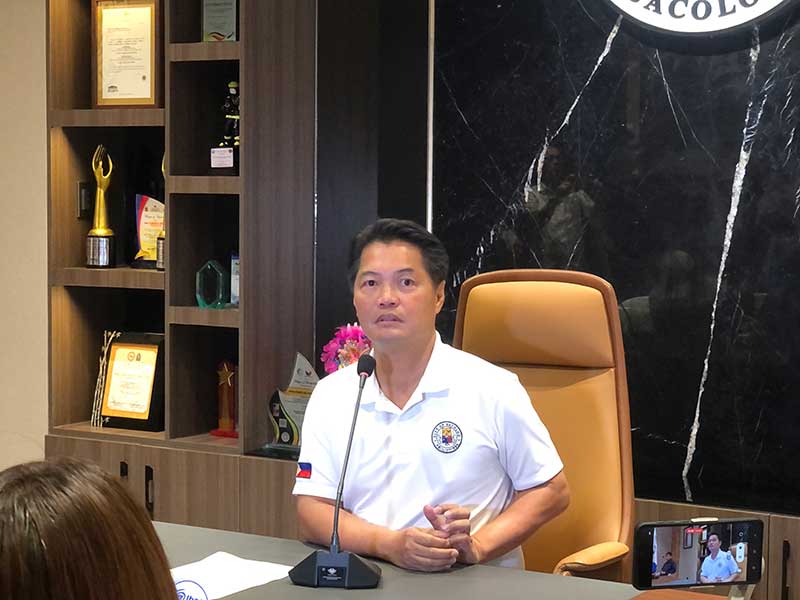 By Glazyl Y. Masculino
BACOLOD City – "Pay your proper taxes."
This was the appeal of Mayor Alfredo "Albee" Benitez to business owners who failed to process their business permits and other compliances here.
In a press briefing yesterday, Benitez said that close to 25,000 business establishments have applied for business permits this year, but only 21,000 have processed their application.
Out of 21,000, only 17,000 were given business permits to operate, he added.
With this figure, Benitez noted that there's a huge number of establishments that were not given business permits for some reason or lack of requirements.
"Ang 4,000 (establishments) na nadula, ano rason nga wala sila nag continue?" Those are the things that we need to focus on," the mayor said.
Benitez said the local government will assist those establishments that lack requirements so that they can comply and be given business permits.
Benitez said that the city will really ensure that establishments comply with permits and pay their taxes, as the application for business permits will start anew next year.
Based on the record of the City Treasurer's Office, the city has collected P1,376,638,944.42 local revenues, as of October this year.
This is 94 percent of the target revenue of the city amounting to P1,465,656,868 this year.
"Bisan diin na lang may mga restaurants. As you can see, the city is growing, and part of this growth is to capture the revenues for us to continue the services na gina hatag sang city," he added.
Benitez said that it's just a proper collection of the city government. "We can really generate from the revenues. Ara lang na da galing wala lang matutukan icollect," he added.
Stella Rose Rayos, Permits and Licensing Division head, said that based on their record, 146 establishments have been recommended by their office for closure to the City Legal Office (CLO) for failing to comply with the necessary requirements.
Nine out of these establishments have been closed last week for failing to secure business permits, she added.
Rayos said that two of the nine closed establishments reached out to them to process the requirements to enable them to re-open.
Benitez said that there's no need for an establishment to reach the closure stage, as the message has always been clear to them.
"Kung may obligations, pay your proper taxes kay mabalik man ini sa inyo. Subong ya, we will give everything back and even more," he added.
"This time is different and we mean business," he said. "We're looking at a double-digit increase in the revenue if efficient kita," he added.
Benitez said that he will sit down with the City Council to find a win-win solution for the local tax revenue rates before making revisions.
"We will make sure anay that we collect properly kay kadamo pa sang wala na kolekta insakto," he said, adding that they will look for a system that will monitor the collection.