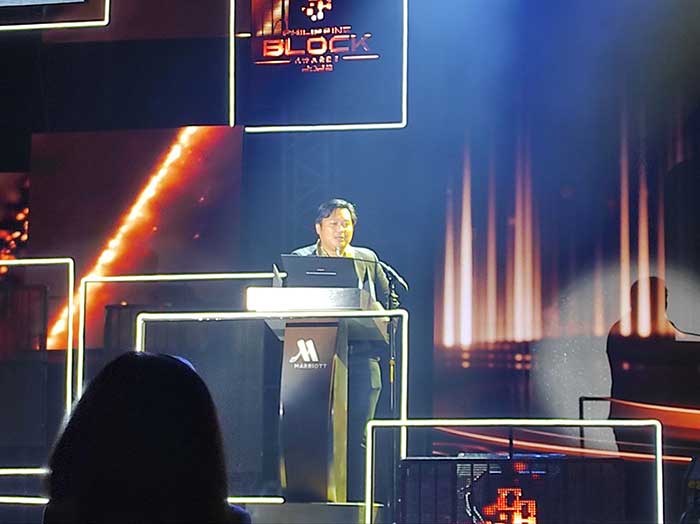 Jay Ricky Villarante, Chairman and CEO of several local blockchain companies, has been honored as a recipient of the prestigious Block Awards 2023, the award-giving body of the 2023 Philippine Blockchain Week, dubbed as the largest blockchain event in the Philippines supported by the Department of Information and Communications Technology (DICT). This esteemed award celebrates the outstanding contributions and pioneering efforts of individuals shaping the blockchain landscape.
Villarante, a serial entrepreneur, investor, and influential figure in the blockchain industry, has demonstrated remarkable vision and dedication to the advancement of blockchain technology in the Philippines. He is the Chairman and President of 8ventures Pte. Ltd and 8Ventures Philippines Corporation, Chairman and President of Paylance Pte. Ltd., Chairman and CEO of BSP-Licensed VASP company, Moneybees, Chairman and Director of Orbit Crypto Hub, and Chairman and President of Secuna.
With a strong belief in the potential of blockchain to bring about positive changes, Villarante authored the book "Blockchain: A Catalyst for Good Governance in the Philippines." In this book, he shares insights into how blockchain technology can address pressing issues and contribute to good governance within the Philippines.
Villarante expressed his gratitude, stating, "I am deeply honored to receive this award and be recognized among the exceptional innovators and visionaries in the blockchain industry. It is a testament to the hard work and dedication of our teams at 8ventures, Paylance, Moneybees,  OrbitPH and Secuna. This award motivates us to continue pushing the boundaries of blockchain technology, fostering growth, and making a positive impact in the industry and society at large."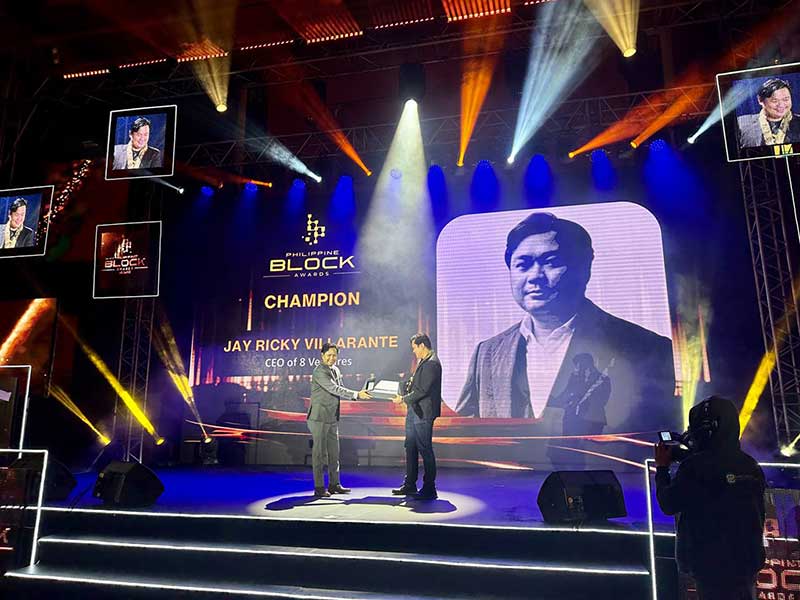 Aside from his contributions through literature, Villarante is an active serial investor, supporting and empowering numerous startups in the FinTech and blockchain sectors. This underscores his dedication to supporting and fostering innovation within the blockchain and FinTech space. He also educates the public about blockchain and innovation as a resource person in various industry and community events.
In the midst of the COVID-19 pandemic, Villarante and his ventures showcased their commitment to corporate social responsibility. Moneybees, under Jay's leadership, facilitated easy and secure transactions, allowing Filipinos to convert cryptocurrency earned from "Play-to-Earn" video games into pesos, providing crucial support during challenging times.
Through 8Ventures, he demonstrated unwavering support for essential initiatives, donating to medical institutions and providing advanced technology to educational institutions to aid in the fight against the pandemic.
In response to the devastation caused by typhoon Odette, Villarante's efforts extended globally through partnerships with Yield Guild Games (YGG), demonstrating his commitment to local and global social responsibility.
Furthermore, Jay Villarante's involvement with Secuna underscores his dedication to cybersecurity. He invested in cybersecurity initiatives and actively contributed to developing pandemic management solutions to safeguard critical organizations and aid communities affected by the pandemic.
Block Awards 2023 is a celebration of visionaries and innovators in the blockchain industry, recognizing their exceptional contributions and influence. This year's event promises an inspiring experience with guest speaker Mark Joyner, a pioneer in digital marketing, providing insights into the future of blockchain and its transformative impact.