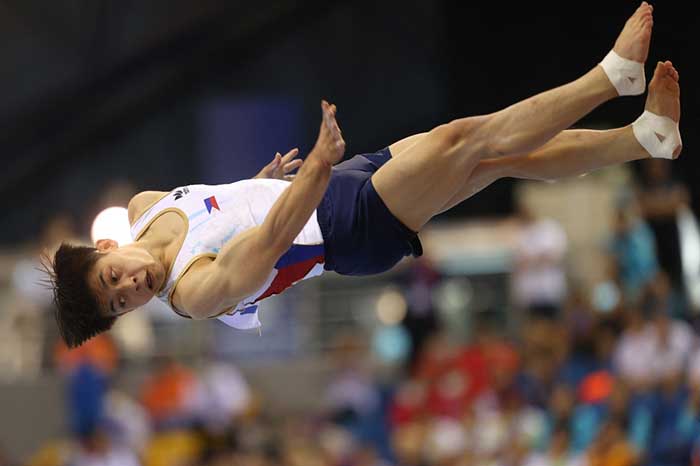 By Leobert Julian A. de la Peña
Gymnastics gem Carlos Yulo capped off his stellar 2022 9th Senior Artistic Gymnastics Asian Championships stint with three gold medals after ruling the apparatus final event, the floor exercise, and the parallel bars event.
Fresh off a dominating Southeast Asian Games campaign in Hanoi, Vietnam, Yulo showed he still had enough gas left in the tank to cement his name as one of the all-time gymnastics greats in Asia.
Yulo garnered an impressive 14.850 points in the apparatus final with 14.900 coming from Dragulescu and 14.800 in Lopez.
The Filipino gymnast got the better of Shiga Tachibana from Japan who won the silver medal and Kim Hansol of South Korea who took bronze medal honors.
During the floor exercise, Yulo pulled off a flawless performance in his pet event and tallied a final score of 14.933.
Yulo was quick to take the lead after a solid execution in his first run and scored 6.300 and concluded his last routine with an 8.633 score.
Hansol, who won the bronze medal during the apparatus final event, improved his standing and got the silver medal while Yang Jiaxing of China finished in third place.
It was a memorable competition for Yulo after finally breaking his gold medal drought in the floor exercise event where he won his last gold medal three years ago.
To sum up his excellent run in the Asian Championships, Yulo nabbed his last gold medal after topping the parallel bars event with a 15.167 total score.
Aside from his gold medal hat-trick, Yulo also grabbed the silver medal in the individual all-around event and will go home with four total medals won.