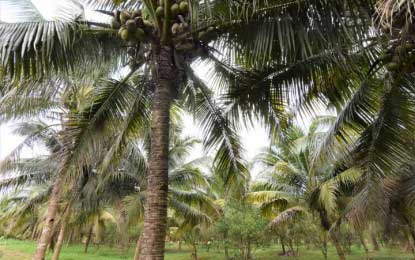 By Dolly Yasa
BACOLOD City – The supplies of copra and coconut fruits are threatened by the rising infestation of bugs known as "cocolisap" (Aspidiotus rigidus) in four local government units (LGUs) in Negros Occidental.
Neil Melencion, Philippine Coconut Authority (PCA) regional manager, said it will take one to two years to recover from the infestation.
This, after an estimated 5,000 coconut trees in four LGUs were infected with "cocolisap."
Melencion has raised the possibility that it may spread to neighboring LGUs if not contained.
He also told reporters here that they will be creating the CSI (Coconut Scale Insect Mitigation) Task Force Negros Occidental to handle the containment of the rising bug infestations in the cities of La Carlota and Bago and the towns of La Castellana and Murcia.
He said the PCA is now working with governor Eugenio Jose Lacson for the issuance of quarantine restrictions in affected areas to prevent its spread.
Melencion also said that Lacson has allocated P200,000 to augment the funds of PCA for the pruning of affected leaves of coconut trees, which started last week.
He said that the estimated losses in the coconut industry due to bug infestation in Negros Occidental is at P3.8 million if 10,000 coconut trees will be affected.
On Tuesday, Lacson issued an executive order establishing emergency measures to control and manage the spread and damage caused by "cocolisap". He also designated the PCA as the lead agency in the efforts.
The EO stated that Negros Occidental has 5,038,723 coconut trees, 2,500,000 of which are fruit-bearing, with a potential income of P18.7 million (copra based). It also provides livelihood to an estimated 13,958 coconut farmers.
The insect pest, according to the EO, attaches itself to plant leaves, feeding on the sap directly drawn from the plant's vascular system, and has tremendously devastated bearing and non-bearing coconut trees, as well as a significant number of coconut farms in Negros Occidental.
Aside from coconut trees, the pest has also been attacking other high value crops that are cultivated under coconuts, the executive order added.
Lacson also directed the PCA to formulate and prescribe the necessary and appropriate emergency measures and methodologies in the treatment of coconut trees and other host plants, and to declare infested areas to be under quarantine.
He also ordered the establishment of checkpoints and quarantine stations to prevent the transportation of unprocessed/ untreated parts of coconut, coconut seedlings and other host/ vector plants.
Coconut leaves/ fronds, young coconut and other raw or unprocessed/ untreated coconut products, coconut seedlings and seedlings of other scale insect host plants are prohibited from being transported outside of barangays, municipalities or provinces duly declared under quarantine due to scale insect infestation.
Transport will only be allowed when supported by a permit to transport duly issued by the PCA, provided appropriate preventive measures, such as spraying of appropriate chemicals, have been instituted. (With a report from PNA)