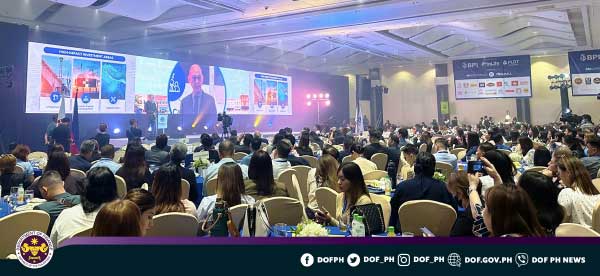 Finance Secretary Benjamin E. Diokno urged the franchise community to invest in the Filipino workforce during the Franchise Asia Philippines (FAPHL) 2023 Conference on June 7, 2023 at the SMX Convention Center in Pasay.
"As the country's top employers and industry leaders, I urge all of you to partner with the Philippine government in safeguarding these gains by nurturing our workforce. Do this by providing a fair, safe, and people-centered workplace where people's skills and talents can fully develop," Secretary Diokno said in his keynote.
Philippine Franchise Asia (PFA) aims to promote franchising as a tool for economic development. The FAPHL Conference, its flagship capability-building program, brought together world-class experts to share insights that will strengthen the sector's global competitiveness and sustainability.
Secretary Diokno highlighted that the PBBM administration will boost economic growth by investing heavily in high-impact areas such as infrastructure, human capital development, and digitalization.
"Each one reinforces the other to create genuine social and economic transformation that is felt by all," Secretary Diokno said.
The government is continuously strengthening the public-private partnership (PPP) framework through improvements in the revised Build-Operate-Transfer (BOT) implementing rules and regulations (IRR), revised Investment Coordination Committee (ICC) guidelines, revised National Economic and Development Authority (NEDA) Joint Venture (JV) guidelines, and the PPP Act, which is currently pending in the Senate.
By empowering the private sector to engage in mutually beneficial partnerships, the government hopes to secure investments that will generate high quality and green jobs across the country.
Secretary Diokno also said that employment generation is a priority strategy of the PBBM administration for socioeconomic transformation.
He shared that the Senate unanimously approved Senate Bill (SB) No. 2035, or the proposed Trabaho Para sa Bayan (TPB) Act on May 29, 2023 to establish a national employment generation and recovery master plan over a 3-year, 6-year, and 10-year development timeline.
It includes plans for supporting micro, small and medium enterprises (MSMEs), worker upskilling, employer incentives, youth employment, and the reintegration of overseas Filipino workers (OFWs).
"It will also encourage and incentivize employers and private sector organizations to offer technology training as well as knowledge and skills transfer geared towards improving the workforce," Secretary Diokno said.