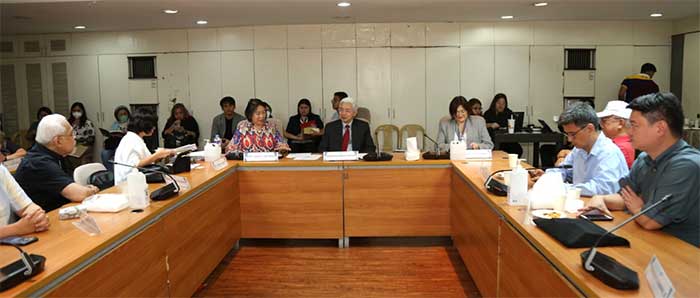 Department of Trade and Industry (DTI) Secretary Fred Pascual expressed appreciation to various manufacturers of bottled water, condiments, bread, salt, sardines, and toilet soap who attended the consultation meeting with the official for holding off any price increases this year despite rising costs of fuel and inputs.
On 21 September 2023, the DTI convened a meeting with manufacturers of basic necessities and prime commodities (BNPCs), where a total of 29 manufacturers and two (2) associations of canned sardines, coffee, processed milk, bread, salt, detergent, candles, condiments, bottled water, canned meat, toilet soap, and batteries participated in the said dialogue.
As of 19 September 2023, 14 manufacturers of 46 Stock Keeping Units (SKUs) covering ten (10) categories of BNPCs requested suggested retail price (SRP) adjustments due to the high cost of major raw materials, packaging materials, fuel costs, wages, and other costs that affect the production of these essentials goods.
During the dialogue, manufacturers expressed their concerns about various issues, including the imposition of pass-through fees; lack of local supply of raw materials; the compliance requirements of other government agencies, and other regulatory concerns.
In their statement, the Philippine Association of Meat Processors, Inc. (PAMPI) said that manufacturers of Noche Buena products decided to absorb the bulk of rising costs. "In our commitment to observing the Christmas spirit and ensuring everyone can enjoy the festival season," PAMPI said. "We are working diligently to manage rising costs. Production costs have risen by an estimated 10-15%, most of these products will only see a modest price increase of 0-4%", PAMPI added.
"I appreciate your support, and I am happy to hear that many are willing to hold off price increases," Secretary Fred Pascual said. "We have a growing middle class who can spend on premium products, but we are also mindful of the need to help consumers who survive on a day to day basis."
Meanwhile, the trade and industry chief also committed to closely working with the salt and canned sardine manufacturers to address their specific concerns.
The DTI Secretary ensured that all concerns raised are taken into consideration and vowed to support the manufacturing sector, urging them to go into value addition. "We have survived the COVID-19 pandemic so I am confident that whatever challenges we now face, by keeping our communication lines open and working together, we can grow the manufacturing sector."
Further, the trade and industry chief vowed to assist the industry in resolving the various issues raised during the meeting with other government agencies concerned to lower operating and distribution costs.
The DTI issues the SRP bulletin to continuously guide consumers and retailers in their purchase and sale of basic and prime goods. The public may refer to the most recent SRP bulletin of basic and prime goods before going to the supermarkets and grocery stores. The price guide is accessible via the DTI website.
Consumers are enjoined to report retailers, distributors, and manufacturers that sell basic necessities above their SRPs via One-DTI (1-384) Hotline or email, ConsumerCare@dti.gov.ph.