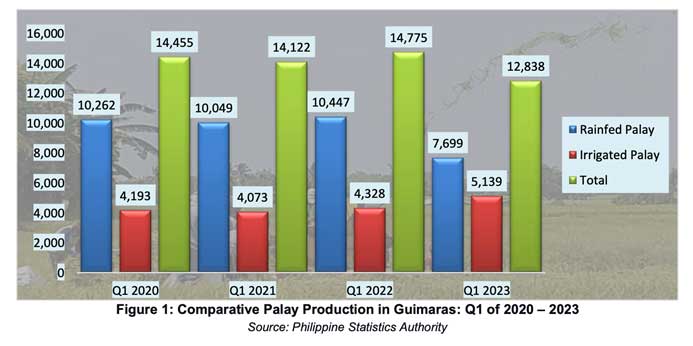 Guimaras' palay yield of 12,838 metric tons (MT) in the first quarter of 2023 is 13.11% lower from the 14,775 MT production in the same period of 2022.
The figure is also 11.19% and 9.09% lower compared to productions in Q1 2020 and 2021, respectively, indicating that the amount of palay yield in Q1 of 2023 is the lowest in four years, based on the latest data of Agricultural Statistics of the Philippine Statistics Authority (PSA).
"Data shows that the decline in the production of palay was due to lower volume of palay produced by rainfed farms. In Q1 2023, 7,699 MT of palay came from rainfed farms, 26.30% less than the 10,447 MT of palay produced in the same quarter a year ago," Provincial Statistics Officer Nelida B. Losare said.
"On the other hand, irrigated farms produced 5,139 MT of palay in Q1 2023, 18.74% more than the volume of palay produced in Q1 2022 with 4,328 MT," Losare added.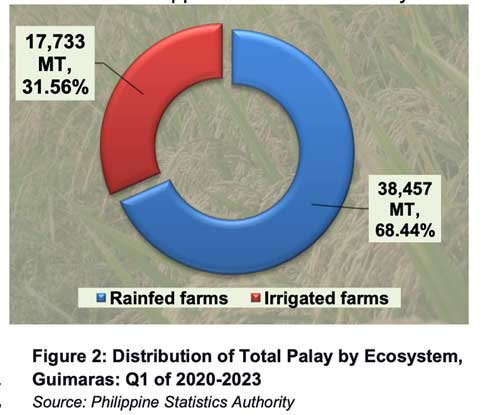 Comparing the data from the first quarter of 2020–2023, irrigated palay farms produced the lowest output despite its yield improvement in 2023 with a 18.74% increase from the 4,328 MT in Q1 2022.
"A large portion of the total palay produced in Guimaras from Q1 2020 to Q1 2023 came from rainfed areas that are dependent on the rainwater in order for them to grow and develop," Losare said.
"During the first quarter of 2020-2023, the total palay produced was 56,190 MT. A large portion of this came from rainfed palay farms as they contributed 68.44% of the total palay yield, while 31.56% of the totality came from irrigated palay," Losare added.
Likewise, Losare elaborated that 1,301 hectares (has) of farms were harvested for palay in Q1 2022, or a 23.10% reduction.
Of the total area that were harvested for palay, 1,251 has. was reduced in the rainfed farms while 50 has. in irrigated farms in comparison to the area covered in Q1 2022.
Rainfed palay farms shared about three-quarters in Q1 2020-Q1 2022, while irrigated farms shared about a quarter of the total palay production.
Meanwhile, there was a significant change in the percentage distribution between irrigated and rainfed farms in 2023, in which irrigated farms increased by 30.71%, while rainfed farms decreased their share to 69.29%.
"The total area harvested to palay in Q1 2023 shrunk by 23.10% having 1,301 hectares lesser than the total 5,632 hectares harvested in Q1 2022," Losare said.