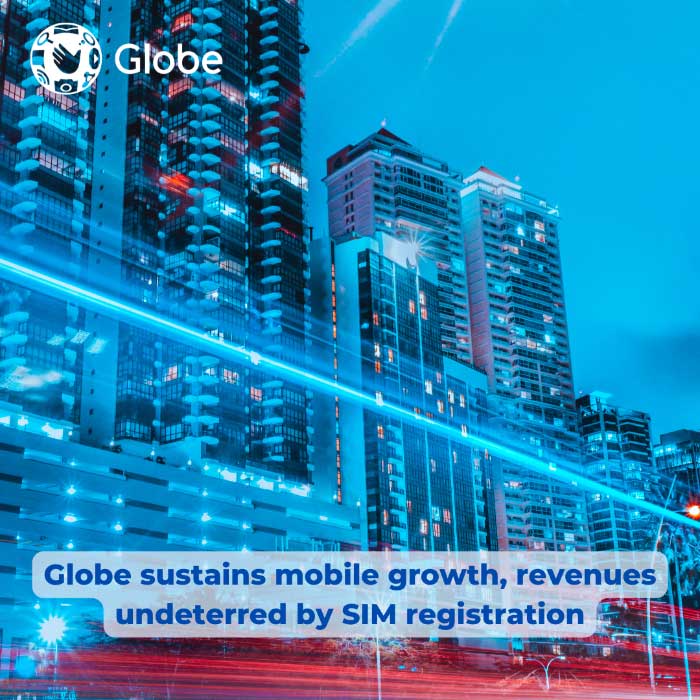 Globe's mobile business continues to sustain growth in the first half of the year with revenues reaching ₱54.8 billion, a 1% increase from the ₱54.0 billion reported the previous year. Revenues remain unaffected despite mandatory SIM registration, which filtered out inactive subscribers from its total base.
Globe's 53.7 million registered SIMs account for over 99% of its revenue-generating subscriber base, consistent with company guidance that the SIM registration exercise will not have any impact on its top-line results for the year.
"We see that SIM registration has no material impact on revenues. We've observed our top-ups remain unaffected and acquisitions in the last five weeks are still at least 50% higher than pre-deadline run-rates.  It's evident that we have already covered 99% of our revenue base," said Darius Delgado, Head of Globe Consumer Mobile Business.
Delgado explained that the 30 million unregistered SIMs Globe deactivated after the SIM registration deadline are predominantly inactive. They were the result of push-selling activities in the past, which were discontinued in the latter part of 2022.
The SIM Registration Act mandated all mobile phone and prepaid broadband users to register their existing SIMs by July 25, 2023, or face SIM deactivation.  It was implemented to curb the spread of scam and spam messages.
Issa Guevarra-Cabreira, Chief Commercial Officer of Globe, echoed Delgado as she underscored the company's focus on customer quality over quantity.
"As we've always emphasized, we do not focus on subscriber count but rather on the quality of customers. And we have seen that our ARPUs are absolutely improving quarter on quarter as mobility increases.  This is despite the headwinds that we're actually anticipating in the back half, perhaps driven also by the back-to-school and the economic activity that has returned to the country," she said.
Guevarra-Cabreira also stressed that Globe remains steadfast in its commitment to providing reliable network services.
"With the stability of the network and our IT systems, our service availability has tremendously satisfied our customers such that we have seen also an increase not just in pickups, but also in our ARPU. So we have happy customers consuming a lot of mobile data in our network that is performing at par with their quality standards," she added.
Globe took over mobile leadership in 2016, with both its subscriber count and mobile revenue market share consistently beating competitors over the last 27 quarters. The growth of its mobile business is primarily attributed to the company's prepaid brands and is driven entirely by the surge in mobile data services.
To learn more about Globe, visit https://www.globe.com.ph/.